Asset labels can have multiple applications for a business. Made from a variety of different materials, asset labels can be affixed to items within a workspace, and are most notably used for costly assets like computers and electrical equipment to help identify them as company property, while also differentiating them from similar stock items. Uses of asset labels, then, range from assisting in the logistics of a move, through to aiding security, identifying staff, and enhancing general security within a workplace. These applications are expanded upon below:
1 – General Identification
Asset labels' primarily function is to help identify items within the workplace as belonging to that company. When made from materials like vinyl or aluminium, labels are near impossible to remove, and can feature barcodes and serial numbers that store important information. This information can include details of stock arrival and maintenance, as well as its registered location within a business. In this way, labels provide visual identification, as well as the opportunity to perform rapid audits of the ideal arrangement of items.
2 – Help with Moves
One of the key strengths of asset labels is that they can reduce the amount of errors created during a move. Items can be tagged and organised by departments when it transit, meaning that any misplaced or wrongly packaged items can be put back into the correct order in a new location. Being able to track items through their barcodes also means that it is possible to account for the arrival of an inventory at a new location, and to establish whether or not items were lost during transit.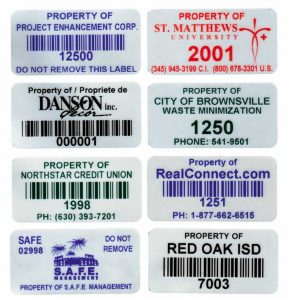 3 – Aid Security
Strongly branded asset labels that feature a company logo and barcode are ideal for deterring theft within the workplace. Asset labels tend to leave permanent marks when they are removed, making it difficult to resell or move stolen items without being identified. In this way, asset labels and their marks mean that it is more likely that a labelled item will be recoverable, or at least identified as being stolen for insurance purposes.
4 – Enhance Safety in the Workplace
Asset labels can be used to enhance general safety within the workplace. One of the best ways to use labels is to mark electrical appliances for safety testing. Rewritable labels, and labels that contain large amounts of space from writing can be used to list the maintenance dates for electrical items, and can be used to speed up the general process of performing Portable Appliance Tests around the workplace.
5 – Identify Staff
Asset labels can be designed as nametags and badges that identify members of staff, and make the process of clearing different levels of security easier. Information stored on barcodes can be used to check in and out of a workplace, and can also be used as a weather resistant alternative to plastic nametags. Scannable features also mean that it is possible to match up identification from a barcode with a staff record, and to ensure that a badge or tag is not being used by the wrong person.