If 2014 is the year when your teen children will be entering the world of licensed drivers, it's a safe bet there were a few prayers that went along with your New Year's resolutions. While you will have lots to think about and prepare for when you have teens preparing to drive, making sure they get behind the wheel of a safe and reliable car will certainly be one of the more serious considerations for you.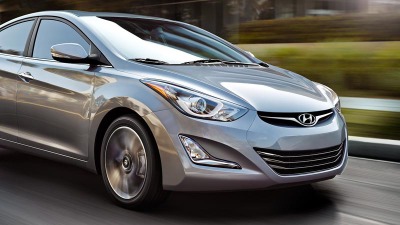 Each year, Kelley Blue Book publishes a list of the safest cars for teen drivers. It draws up its list by reviewing annual reports issued by organizations such as: the National Highway Traffic Safety Administration (NHTSA) and its annual crash testing of cars; and the annual safety ratings given cars by the Insurance Institute for Highway Safety (IIHS). For 2014, here are the top cars for teens, a list that all anxious parents with teen drivers should at least take a look at:
Blue Books' Top Three
The 2014 Hyundai Elantra sits at number one on Kelley Blue Book's teen car safety list, and that shouldn't be a big surprise. The car earned a five-star safety rating overall from NHTSA and the car also landed in the Top Safety Pick category from IIHS. The car is easy to handle for a newer driver, is stylish enough not to embarrass any status-conscious teens and its reliability is backed with a 10-year powertrain warranty.
The 2014 Ford Focus grabbed the number two spot in the Blue Book's teen car safety survey. In addition to high marks from the NHTSA and the IIHS, the Focus includes something Ford calls the Sync system – a hands-free communications and monitoring system that allows teen drivers to communicate with select contacts (like parents) in a voice-activated, hands-free fashion.
Chevy's 2014 subcompact, the Sonic, grabbed the number three spot in Kelley's safety survey for teen cars. While some parents may balk at a smaller car for a teen driver out of safety concerns, the Sonic earned a five-star NHTSA crash text rating, in large part due to the ten standard airbags that come with each model.
The rest of the list
After these top three cars, here's the remaining list of top ten teen cars for safety in 2014, according to Kelley Blue Book:
While some of these cars may be in the upper stretches of affordability for a teen driver, those models are perfect family cars, especially for families looking forward to welcoming in a new teen driver this year.
Safety, affordability…and style
One of the impressive features of this list is that it is packed with cars that teens (or any other younger drivers) might actually want to drive. The majority of the cars on the list are also incredibly affordable. The Kia Soul, the Honda Fit and the Chevy Sonic are all on top lists for most affordable cars in 2014 and all three clock-in with Manufactured Suggested Retail Prices (MSRP) at or below $16,000.
All of the cars on the list sport an impressive array of standard safety features and all of them rank high for safety and reliability from both NHTSA and IIHS. These considerations are something that will not only ease the minds of worried parents looking to send teen drivers off in a safe and reliable car, but it can ease the burden on the pocketbook. Adding a teen driver to your family's car insurance plan is going to cost you more – in some cases, a lot more.
According to the National Association of Insurance Commissioners (NAIC) a family's car insurance rates will, on average, double when you add a teen driver (and when you add a teen boy, they can easily triple or quadruple.) There are standard discounts offered by all car insurance companies to blunt the cost of adding teen drivers and to encourage safe driving practices: discounts for taking driver safety training, discounts for maintaining good grades in school, and discounts for driving safer cars.
If this is the year your teen(s) will start driving on their own, make sure they have a safe and reliable car to get them started on a lifetime of good driving habits. You won't go wrong if you put them behind the wheel of one of these cars this year.
Featured images:
License: Royalty Free or iStock
source: Image of this 2014 Elantra courtesy of Hyundai America Jeffrey Davidson is a writer and advisor with more than 25 years of experience working in the insurance and financial planning industry. He currently writes on insurance and related topics for Reply!. You can find his corresponding article on more things to consider when you have teen drivers.