Bathroom may be the most privacy space on our home for most of the time we are naked in it. Then problem comes – how to create a warm bathroom in winter? Many people have the experience of trembling in bathroom for taking bath. I hate the feeling. If you have the same feeling with me, then you should have overall consideration from construction materials, sanitary products to lighting and color for bathroom renovation.
Space Planning
In order to improve the comfort level and practicability of bathroom, space planning is critical before renovation. It can prevent the trouble of secondary renovation for season change or uncomforting etc.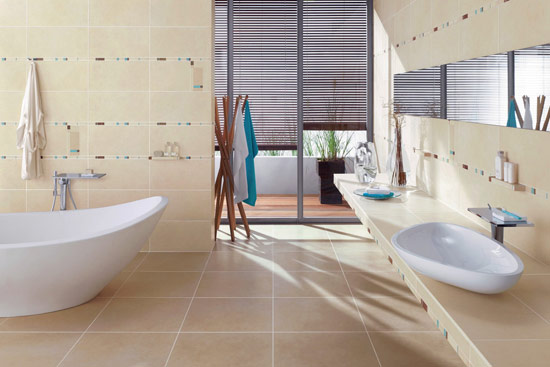 Control the Area
Bathroom should not be too large. If it is too large, even bath heater cannot increase the temperature in it when bath in winter.
Choose Warm Color
Color is an effective way to adjust the cool feeling of bathroom. Black, white, grey are the main color tone for bathroom. We can add warm to bathroom start from soft decoration like shower curtain, curtain. If there are many colors used in bathroom, you'd better choose large area to change the atmosphere.
The Compactness of Door and Window
When door and window cannot close tightly, there would be air leaking phenomenon. In order to prevent air leaking, we should check the sealing strip of door and use double glazing when having renovation.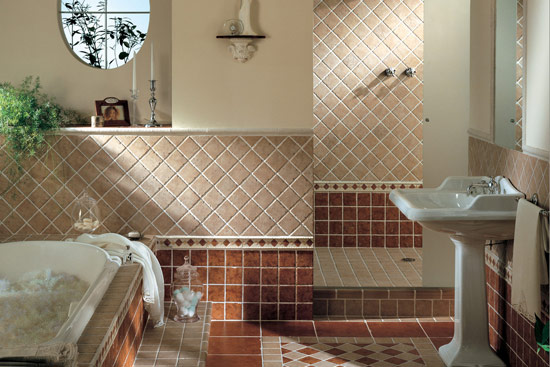 Construction Material Selection
Many people like the refreshing feeling of bathroom. It is comfort in summer for using large area cool feeling material, but it does not suit to use in autumn and winter. Besides, it will do harm to people's health if contact the cold in long period. Therefore, it is better to use mild construction materials in bathroom.
Tile with Warm Texture
Antique tile, wood grain imitation tile is good choice for creating warm bathroom. Antique tile can absorb moisture when the environment is humid and release the moisture when the environment is dry. Thus there is no water vapour on antique tile and people won't slip down when walk on it. It does not have cool touch feeling like stone.
Carbonized Wood
Carbonized wood and carbonized flooring can be used as bathroom cabinet and flooring, ceiling decoration material. Compared with common ceramic tile, carbonized flooring retains the warm and soft texture of wood. It has low visual stimulation to human. Check bathroom flooring selections here.
Avoid using Polishing and Reflecting Material
Polishing metal material and matt, mirror surface material can expand space visually. But when too much this kind of material is used in bathroom, reflect light will do harm to human's health and sharp corner and edge of metal material has hidden danger.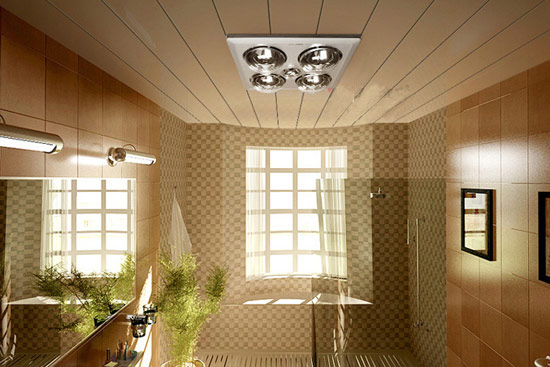 Bathroom Utensil Selection
Except mild construction material, bathroom appliances, sanitary fittings also have the function of maintaining or adjusting the temperature of bathroom.
Bath Heater
No matter how good the heat preservation measure of bathroom, it is a torturous thing to take bath in winter. Bath heater can solve this problem easily. For small bathroom, usually 4m², bath heater with two bulbs is enough. For bathroom in 6 m²to 8 m², home owner should choose bath heater with 4 bulbs. Learn small bathroom remodeling ideas here.
Fan Heater
A fan heater can dry your body after bath softly. You do not need to tremble in cold air for drying your body. Water proof is one of the basic requirements for it. Or it would be unsafe to use it in bathroom.
Sanitary Products with Constant Temperature Function
Constant temperature sanitary products are popular for the warm and healthy effect they brought – closestool with warming toilet seat, shower head that can control the water temperature in 38 ℃ precisely, constant temperature bathtub etc.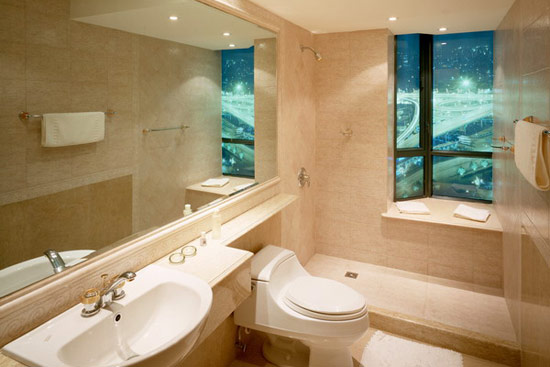 Lighting Layout
Lighting is an important tool for changing the atmosphere of bathroom. Home owners can create relaxing comfort feeling by using lighting. Except basic requirement like water proof, explosion proof, color, installation site and light intensity should also be considered.
Yellow Lighting
Yellow lighting can create mellow and dim atmosphere. It is the most common warm lighting.
Combine Several Lighting Method Together
Combine ceiling lamp, wall lamp, spotlight together to create romantic atmosphere in bathroom. For example, except install an embedded ceiling lamp, ceiling spotlight with low light intensity not only can create romantic and warm atmosphere for bathroom, but also can provide light to somewhere main light cannot reach, which can avoid the happening of accident.
The Intensity of Light
For safety consideration, the light intensity should not be too low. Indirect light, recessed luminaire can provide comfortable visual environment.