CRM programs are all about establishing effective cooperation with customers by providing personalized services and automating sales and marketing while BPM tools are about managing workflows and critical business processes. Customer relationship management program without business process management abilities is nothing but an expensive Rolodex. A BPM app without CRM features is just a set of scattered processes that not meet the customer needs. The merging of BPM and CRM into a single powerful application like bpm'online (https://www.bpmonline.com/bpm-software) is able to solve many business challenges including:
Automating repeatable operations
Driving flexibility and visibility into the whole business
Enhancing corporate cooperation
Gaining complete regulatory compliance
Identifying and optimizing customer-related processes
Improving sales and marketing coordination
Keeping costs and resources under control
Managing the entire customer lifecycle
Transforming big data into actionable processes
Companies that use multifunctional BPM CRM solutions can leverage customer interconnections to deploy a customer-focused approach into daily processes, improve efficiency, and keep up with clients' demands. The sales reps need an ability to easily find and utilize the customer information in order to build customer-oriented business processes and deliver the satisfactory customer service experience. There are other reasons to integrate a holistic BPM + CRM platform.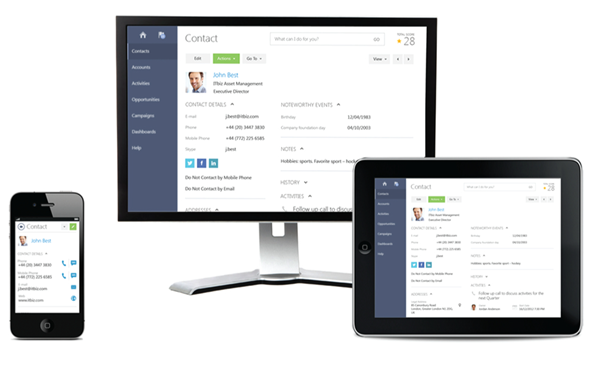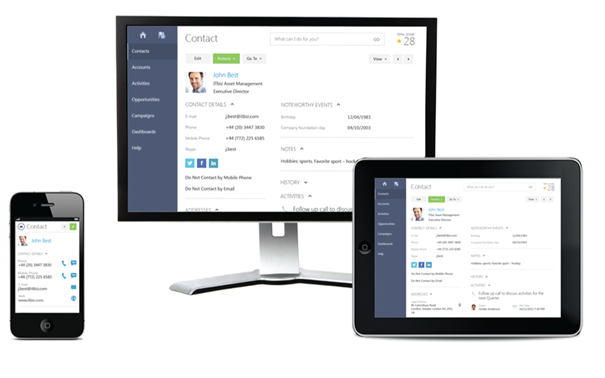 Capabilities of the Best BPM CRM System
Despite the fact that CRM software delivers a 360-degree customer view, its capabilities are still limited. For instance, it cannot give a sales rep a seamless access to the inventory catalog to provide clients with immediate information when their orders.
Business procedures like the handling of orders and exceptions, project management, and invoicing require a streamlined collaboration between the departments to be done well. Obviously, too many business operations are initiated inside CRM solutions and all of them need uncompromised control and visibility that can be achieved thanks to uniting BPM software features with CRM functionality.
BPM is the way of managing business-important processes. Business process management software automates workflows and eliminates manual efforts inside end-to-end enterprise processes. BPM technology gives the participants an ability to identify processes, define efficient interactions between the different steps in every process, and design these processes so that they will contribute to managing stronger customer relationships. This only may be achieved by blending BPM with CRM.
The enterprise-wide BPM plus CRM program facilitates workflows across diverse systems. Such as, a company can design a process relating e-commerce with a CRM application with the purpose when an item delivery is delayed, the solution analyzes the customer lifetime value and notifies the process owner via an email or, for high-value customers, generates a service case for the customer service agents to promptly inform such a customer via the communication channel that this particular customer prefers.
One more example of effective utilization of conjunction of BPM with CRM: a producing company can design a process in order to when there is a strong possibility of a significant deal forecast by the customer relationship management platform, a process automatically captures this information and gets it into a capacity requirements planning system. Any change in the run of the deal is swiftly reported in the capacity planning system. Once such a deal is closed, the inventory control system predefined into the BPM suite assures that capacity complies with the demand.
So, the full-featured BPM plus CRM software offers a set of sophisticated tools to simplify the automation of key business processes and can be used to:
manage customer profiles and accounts;
qualify leads and opportunities;
categorize products;
develop marketing activities;
enforce corporate best practices;
define a common sales methodology and streamline its execution;
model the stages in the sale processes and define an ideal workflow;
ensure that all data captured and criteria are met before deals progress to the next stage;
automate low, error-prone customer-associated processes including sales and project budget approvals, marketing campaign execution, sale follow-up services etc.
By combining BPM initiatives with CRM strategy into one cutting edge software like bpm'online, enterprises can also deliver quicker decision-making, ensure compliance with organizational policies and regulatory demands based on inbuilt business rules management, and improve activities around selling, promoting, and servicing.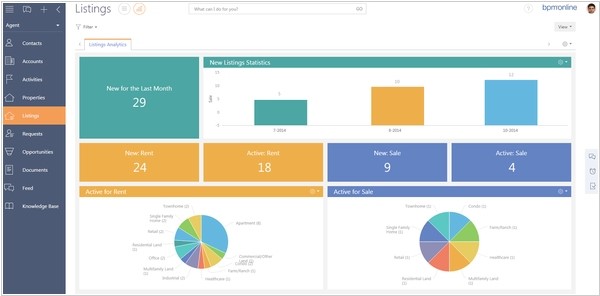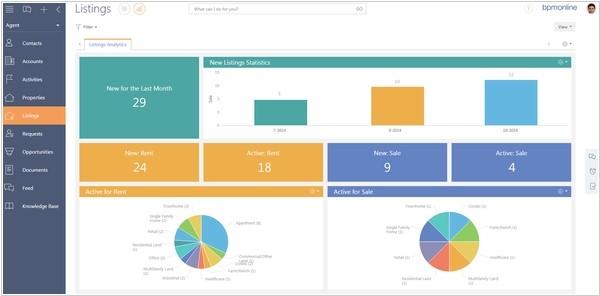 Benefits of Good BPM+CRM Software
Organizations of different sizes and types want to improve productivity, increase incomes, and provide excellent customer service. Bpm'online, the top notch BPM CRM software helps enterprises achieve this all and even more. There are top 7 ways how companies can take advantage of BPM predefined into a CRM suite:
Great data aggregation
Customer management software is usually thought for the contact management and sales pipeline arranging but not for data aggregation, which is quite relevant outside the customer relationship management program. For example, a bank manager may need to access some customer private information from a CRM database for a reference purpose while estimating a client's credit rating. By adding CRM tools into a BPM banking system, employees get enabled to access any documentation related to the bank mortgages, branches of a bank, and third parties. Thus, such a solution gives the users a full view of a credit profile of every individual.
Lead management enhancement
The finest BPM CRM software is able to streamline lead assignment from various sources to speed up marketing and sales processes. When sales reps are empowered with well-managed CRM data including complete customer account information, contract details, service suggestions, history of communication etc., they are able to reach out to the right clients with the relevant sales pitches at the proper time.
Cross-and up-selling maximizing
The smart combination of BPM with CRM streamlines cross-sell and up-sell opportunities based on automated business processes that allow for smooth sales progression. Business process management smartly provides rules for personalized offerings or services analyzing the history and behavior of the customers, their profiles, and transactions.
Better case resolution
The combination of BPM and CRM guides the stakeholders through case resolution processes, providing a consistent service experience for every type of a case. Moreover, both on-premise and online BPM solutions can boost the utilization of accumulated knowledge and gathered information by the staff at each point of the case resolution process. This ultimately enhances operational efficiency and customer loyalty.
No missed deadlines
If organizations manage projects, the progressive BPM CRM software can let the participants know if a project meets the deadline and budget. The program can set up notifications and alerts for the process owners to inform them on how the most valuable customers are being serviced. For instance, an alert can let a sales rep know that a customer has not been sent the shipment details.
More accurate sales forecast
Business processes associated with customer relationship management gives a more forward look because by utilizing CRM features in tandem with a BPM app, the managers see the total volume of new leads generated or the movement of new products/services in the sales funnel and hence can better forecast and manage sales. Also, the fusion of BPM with CRM helps with invoicing and accounting based on sales data and customer information.
Continuous performance improvement
An essential part of the best BPM CRM solution is the performance metrics that take place in every deal. Leveraging BPM and CRM delivers customizable dashboards that highlight won and lost opportunities and report on the profitability of particular customers. Hence, organizations can determine what customers should be given special attention in the future. This will allow business leaders to develop sales strategies, bid smartly on new leads, and avoid those, which are the least profitable. More information about BPM integrated into CRM is available here.