If a prescription drug is found to be unsafe, the Food and Drug Administration is responsible for issuing a recall to ensure that the manufacturer pulls it from the marketplace. In some cases, manufacturers choose to voluntarily pull a drug or supplement from the marketplace based on the results of an FDA inspection or of their own quality control watchdog. Here are five of the most recent U.S. FDA drug recalls, the details and background behind the recall, and the adverse effects they had on consumers.
SOS Telecom Energy Supplements
On May 10, 2016, the FDA ordered a recall of all energy supplements sold by SOS Telecom, including the brand names Tiger-X, Ginseng-X, Ninja Power-X, and Super Samurai-X. Because these products were found to contain Sildenafil, a drug used to treat erectile dysfunction, they were reclassified as unapproved drugs. This active ingredient was not listed on the products' labels. Sildenafil can lower blood pressure to dangerous levels when it interacts with drugs containing nitrates, often prescribed to those with diabetes, high blood pressure, high cholesterol, or heart disease. There are no current reports of illness or injury associated with use of this product.
50% Magnesium Sulfate Injection
On April 13, 2016, Pfizer company Hospira, Inc.,voluntarily recalled one lot of 50% Magnesium Sulfate Injection, distributed in single dose 20 mL vials, because the presence of particulate matter was detected. If such a medication was injected, the particulate matter could result in complications like localized swelling, redness, pain, and allergic reaction. To date, there are no reports of adverse effects that have occurred due to drugs in this recalled lot.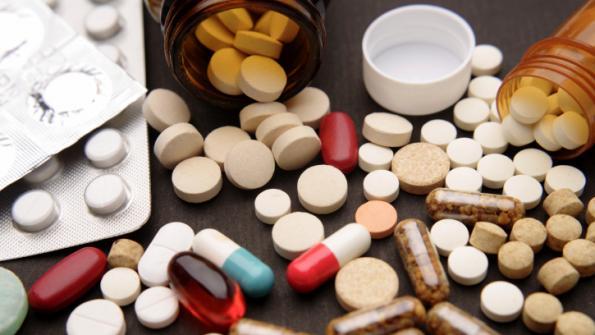 Super Herbs Appetite Suppressant
This over the counter supplement was voluntarily recalled on April 11, 2016 after FDA testing discovered the presence of undeclared sibutramine, desmethylsibutramine, and/or phenolphthalein. Sibutramine and desmethylsibutramine are appetite suppressants that were withdrawn from the U.S. market in October 2010 because they substantially increase blood pressure and/or pulse rate in some patients. This is a serious risk for patients with a history of coronary artery disease, congestive heart failure, arrhythmias, or stroke. Phenolpthalein is a laxative substance that is categorized as carcinogenic. There are currently no reports of adverse affects associated with this particular supplement.
Continuum Labs LGD-Xtreme
A lot of this supplement, designed to build muscle mass, was voluntarily recalled on April 5, 2016 due to the presence of LGD-4033 Ligandrol, an investigational drug not approved for use by the FDA. The potential adverse effects of LGD-4033 Ligandrol, but no adverse effects have currently be linked to use of this supplement.
5% Dextrose Injection
This drug was voluntarily recalled by B. Braun Medical Inc. on March 28, 2016, due to customer reports of leakage and the presence of particulate matter identified as microbial growth. Intravenous administration of a non-sterile product can result in life-threatening infection. There are currently no adverse effects reported that have been linked to this specific batch of medication.
If you want to get the latest news about drug recalls, the best source is the official FDA website. You can also visit MedWatch, which compiles all of the medication safety information released by the FDA.
Founded by Mark Sadaka in 2008, Sadaka Associates is based in New York and New Jersey. Mr. Sadaka's educational background and legal expertise in complex litigation, from consumer protection, medical device and pharmaceutical litigation to product liability and toxic tort, has made Mr. Sadaka a nationally recognized trial lawyer and trusted counsel for nearly a decade.