MASSAGE THERAPY
DEFINITION AND HISTORY :We all face some occupational stress in our day to day life. Sometimes our muscles are over-used. This may lead to many chronic pain conditions. Here arises the need for massage therapywhich can be defined as the manipulation of soft tissues of the body. This includes muscles,tendons, ligaments, joints and connective tissues. Massage therapy is used to cure both acuteand chronic conditions.The practice of massage therapy is found in history since centuries in India, China, Japan, Egypt,Greece and even in Arabic nations. But its popularity got widely spread in Europe during the Renaissance.In today's modern world, different types of massage therapy is used for curing various health-related purposes, such as depression, to relieve pain, rehabilitate sports injuries and for aidinggeneral wellness.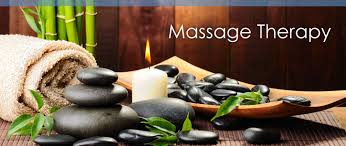 MASSAGE THERAPY AS CAREER: THINGS TO BE KNOWN Though the career of massage therapist is considered to be one of the unique careers, people should know some important things before pursuing for this career.
1. Proper educational qualification: You cannot simply go out of your college and become a massage therapist. Opting this as your career also includes a proper educational qualification to either start practicing on your own, or getting a job at a hospital, hotels,health clubs, clinic or a spa.
2. Strenuous and hard-work: Working as a massage therapist needs complete dedication and hard working. Though a massage therapist can decide his working hours by doing either full time or part time. But since demand for massage is increasing, working hours may vary accordingly.
3. Earnings: The amount a massage therapist earns is not the same for every therapist.There are many factors which decide your earning scale. Basically depending upon your geographical situation, competition and how much experienced you are. If you are employed in some hospital, health club, spa or some other institution in a metropolitan area, you will definitely earn a lot better than that of working in a small town or having your own practice.
4. Calm, cool and focused: While treating a patient, a massage therapist plays an important role. He has to decide a specific massage treatment for that particular medical issue. Treatment of a patient suffering from depression would be different from that of rehabilitation of injuries. So you have to listen to your patient's need with a calm and focused mind.So, it doesn't matter if you got your education from one of the top Acupuncture school or some other normal one, it is totally up to you to shape your career as one of the best massage therapists.