It's easy to spend all your time working on decorating the inside of your home, but did you know that it's just as easy to get your front lawn in tiptop shape, too? Here are a few easy things you can do to get the front yard that anyone would drool over.
Cure a Sick Lawn
Your grass is the foundation of your home's curb appeal. Here are a few tips for getting the lush green carpeting you want without breaking your back or the bank.
Brown sections. Resist the temptation to cut your grass low and have your mower blades sharpened regularly. The main cause of brown patch in your lawn is damaged grass and these are the prime culprits.
Trampled paths. If there is a well worn path in your yard, rather than try to fight it with replanting grass, install some beautiful pavers or stepping stones instead.
Brittle grass. The main culprit of brittle grass is lack of water. If you notice your grass breaking off, try to water it more frequently.
Overall yellowing. This is common if you use too much fertilizer. If you notice this happening, try watering your lawn for a few days in a row in order to dilute the fertilizer and get it down into the dirt.
Yellow patches. In most cases, this is caused by pet urine. The only way to stop this is to either train your dog to only go in one area or reseed every so often.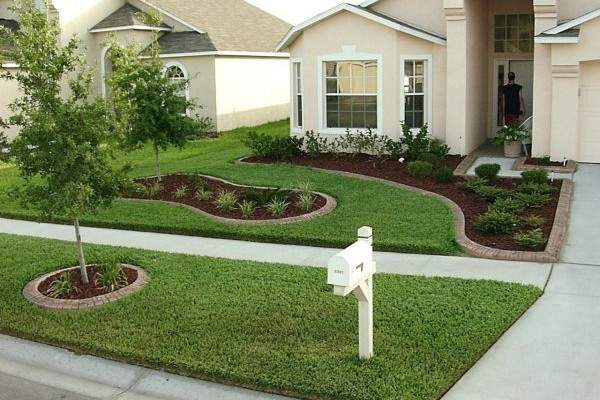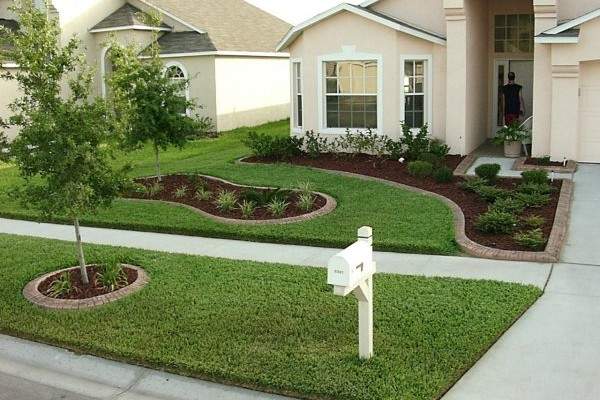 Mind your Mulch
Mulch is your flower garden's (and your back's) best friend. By putting it around your flowers, you stifle weed growth and keep moisture in the soil.
Choose organic mulch over inorganic types such as brick chips or shredded rubber because it will not only keep weeds at bay, it will keep the ground cooler, allow plants to breathe and even breaks down and provides additional nutrients for the plants.
Skip free mulch. Odd are it will contain contaminants such as weeds or diseased wood or plants, which can take root in your yard and decimate all your hard work in just a matter of a few weeks.
Up your Appeal
Last but not least, there are three super easy ways to make your front yard look great and it will only take a few hours.
Replace/Repaint your Mailbox
Depending on the condition of your mailbox, either repaint it with some outdoor spray paint or replace it with a new one. Having a new or like-new mailbox instantly adds a bright spot to your yard.
Step Lightly
Add solar powered lighting to the sides of your front walkway. These lights are inexpensive and use no electricity to operate. They add an incredible ambience to your front yard at night and also help keep late night visitors safe from accidents.
Class up your Entryway
Paint your front door and add a few inexpensive annuals in inexpensive pots at the entryway. This will instantly add class to your entrance without the cost of replacing your front door.
For more great Front Yard Ideas or to view Patio Landscaping Photos, visit www.diyhomedesignideas.com.
Author Bio. : If you are looking for information on how to spruce up your front yard, get some great Front Yard Ideas or Patio Landscaping Photos here.