In Today's time it is very difficult to find Android based smartphone with Good Camera. Sony's 12 MP shooter in the newest Xperia S or Samsung's 8 MP rear camera in the Galaxy S IV show more than great results even in low light conditions. But no matter how great your camera is, it still would be nice to have an app that will turn your photos in masterpieces.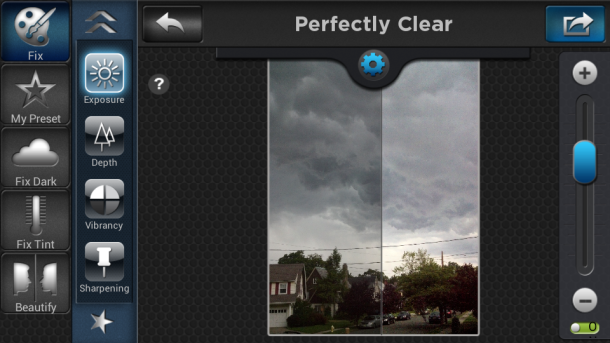 Perfectly Clear for Android has finally made its way on Google Play and is top in the list of android app directories. Frankly speaking, it kind of reminds me the Instagram app but with additional features and more advanced settings. As always – the main principle is pretty simple: you take a picture, open it with Perfectly Clear and after a certain number of filters you make your photo look better. The good thing about this application is that it will offer you some standard improvements that are applied automatically. You may like them and tap OK for further procedures or spend a couple of minutes and use your own filters.
What I like about this app is that it divides your photo on two parts: before and after. This is very comfortable when you want to see changes in real time and compare them with the original. Though, I would recommend its developers add more preset filters to make things look easier for those people who enjoy taking pictures but hate to edit them. Especially when on the go, smart-phone owners prefer to take a picture, change it as fast as possible and share it with others – all within 5 seconds!
Also, there is one thing you need to keep in mind: while Perfectly Clear for Android is offered for $0.99 only at Google Play, some filters will cost you another dollar or so. I do understand that better app performance requires extra investment but when I pay a certain sum, I prefer to pay it for the whole app and not for its bigger part. But at the same time – if you find those filters useless, you can put your wallet back and save another dollar. In general – the app is great and if you enjoy taking pictures non-stop – check the link below.
Jane Davies is a renewed writer and a Technology reviewer. She has its own website lists when she need to explore something useful.