The famous vocalist Beyonce Knowles is charged with plagiarism. Beyonce very recently was shooting for her music video, Countdown video. The video consist of a music score sung by her. The song was accompanied by a soothing genre of dance form- ballet. Beyonce is accused of stealing and imitating the experimental dance moves of Anne Teresa De Keersmaeker.
The Belgian choreographer, Anne Teresa De Keersmaeker thought this act of the renowned singer very gross. She commented that it was seer impudence on the part of Beyonce to copy her moves. If one watches Rosas Danst Rosas by Thierry De Mey of 1997 and the performance of Beyonce's Countdown video, then one could easily notice the similarity between the two. De Keersmaeker sarcastically mentioned that, the local school kids would perform better following her dance steps.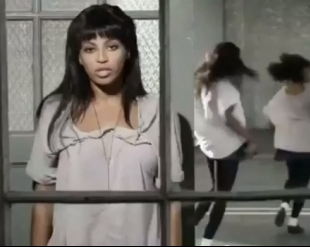 Adria Petty shared information with MTV that she helped the vocalist to choose a number of references and both made a thorough research. Beyonce chose German modern dance form most probably by the artist Pina Bausch. Petty's revelation focuses on the fact that Beyonce had no plans with Belgian choreography. Therefore, Keersmaeker's accusations are baseless.
The musical video for which Beyonce is accused is a three and a half minute 60's and 70's pop culture. The eminent singer is posing as different artists. Sometimes as Audrey Hepburn in Funny Face, Monica Vitti in Modesty Blaise. In the innovative musical video Beyonce also paid homage to Jennifer Beals from Flashdance and Diana Ross. The musical film shows reverence to stars of by gone era. Petty feels that no artwork can be free from influence. They are continuously mixed and experimented, and revamped.
Now the question is did the imitation made any real damage to Keersmaeker or her career. A work of art is always inspired by another exemplary work. Keersmaeker herself is inspired by the ballet forms of Vaslav Nijinsky and Antonioni. Evidently her recent creation D'un soir un jour De Keersmaekaer includes the part of both. Vaslav Nijinsky's choreography of L'Après Midi d'un Faune acted as an inspiration for Keersmaekaer. So, similarly, Beyonce's musical videos too contain references of other films and art works. Her previous works shows the truth of the statement. For example, her Naughty girl was instigated by Cyd Charisse, The Band Wagon was inspired by Fred Astaire, her Video Phone incorporates a Reservoir Dogs tableau. There is certainly more to the list. The video, Déjà vu by the celebrated singer is a performance to honor the movie Basic Instinct. Similarly, Why Don't You Love Me is homage to Betty Page.
However, De Keersmaeker winds up soothingly at the end saying that she wishes Beyonce the same kind of joy that her daughter gave her. It is now known that Beyonce was four months pregnant when she was filming for the Countdown video. De Keersmaeker was in a similar condition when she was shooting for the video de Mey. Though she is often curt in her reply, she is held with esteem and affection by her dancers.