LEDs are the best source for the lighting the areas. It has many benefits when compared to other sources of lighting. It is the implementation of all the lighting sources to provide better services to the people. That can save both the energy, money and the effects for lighting the areas. The government also suggested the people make use of LED bulb by replacing the traditional bulbs that we are making use  of it from the beginning. The service that you get from the LEDs bulb is very efficient and it is designed to serve the purpose of the people according to the latest technology.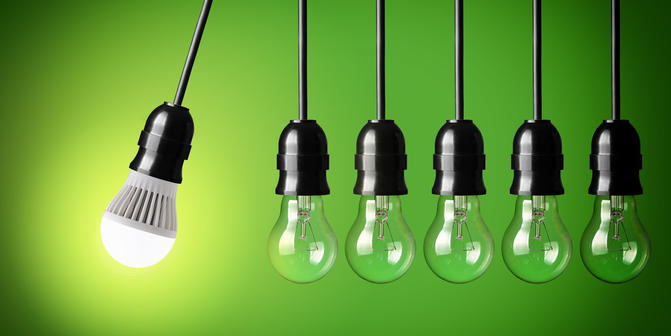 Benefits of LED Bulbs
It uses very less power consumption than the incandescent and the halogen bulbs, the energy that you use for these one bulb we can glow five LEDs by utilizing that energy. And it also uses less power consumption than the fluorescent bulbs.
LEDs provide longer life span than fluorescent, Incandescent bulb, halogen and CFL bulbs.
LEDs will not get burned out or damaged at a sudden, they will provide longer life span and it will not suddenly get stopped, it starts providing some dim light by this indication you can buy the new one in advance. But this is not the case with the other bulbs, they suddenly get stopped working. At that time we had to suffer if we don't have the additional bulb for replacing it.
LEDs will not emit the toxic chemicals into the environment like other bulbs emits mercury or lead that emits dangerous gas into the environment that cause dangerous diseases to the people.
It doesn't emit the UV rays or infrared rays into the environment, some things or substances are sensitive to UV rays and infrared rays. Traditional bulbs emit them.
It is designed so flexible to use and fix. It does not require much effort to put for fitting of these bulbs.
It doesn't take much time for lighting, traditional bulbs provide full light once they are turned on, they take some time for providing their maximum brightness.
It doesn't require heat for creating the brightness they will emit the light at any temperature. Traditional bulbs depends on the amount of heat.
It doesn't require high voltage for lighting, it operates at low voltages and it consumes lower energy than any other bulbs.
They are recyclable.
Not only these it has other more benefits for the users that's why government also recommended to make use of these bulbs in the home or office areas. It saves your energy and your electricity bulbs. In some electrician shops, they are providing you the LED bulbs in replacement to another type of bulbs. Electrician Northern Beaches also helps you to provide the details of the bulbs that are utilized by the bulbs. And help you to suggest the correct way of utilizing the energy for your electrical equipments.