A good contractor can mean the difference between a Pinterest-perfect kitchen and a DIY nightmare. The best way to make sure you get a great contractor and safeguard yourself against a flakey one is to do your research. Knowing what to look for will help you weed out under-qualified contestants and help you spot a good pick when you see it.
To start, get a referral. Turning to friends and family is an easy way to make sure your contractor is reliable. Social media is also an invaluable tool for crowdsourcing recommendations, especially when you're new to the area. If you've just relocated, your real estate agent could be an excellent resource, too.
Search Facebook or NextDoor for locals-only groups to connect with people in your city or neighborhood. Join the group and ask members for any recommendations for contractors that specialize in the home improvement job you're undertaking. Consulting online resources such as Yelp or Angie's List means you can read reviews from past clients that provide specific examples of what people like or dislike.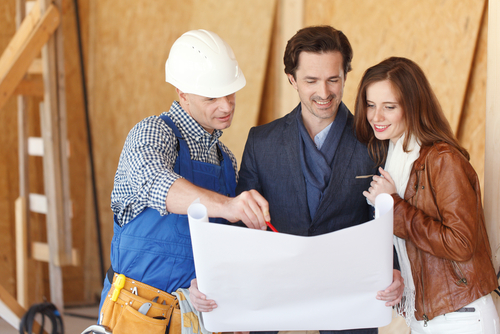 When pricing different contractors, as well as the materials they use, remember, you often get what you pay for. Know which materials are quality and conduct your own building supply research to get an idea of what good materials cost. If your quote seems too good to be true, it just might be. Shop around to get a true idea of what your project should cost. Comparing multiple quotes will help narrow down your search. Once you're ready to commit, make sure your soon-to-be contractor meets these must-have standards before signing on the dotted line:
They have accreditation
Each state has its own set of rules and regulations when it comes to contractor licensure and accreditation. Generally, a licensed contractor has met the minimum requirements for the line of work outlined by the state or city. In addition to meeting bare minimum requirements, contractors can obtain a number of accreditations specific to their trade or as means of further education. Here are a few to look out for:
Certified Graduate Remodeler (CGR)—Contractors with at least five years of experience in the field can apply for the CGR. The curriculum emphasizes business and project management skills, recognizing them as important as remodeling skills themselves when it comes to running a successful contracting business.
Certified Aging in Place Specialist (CAPS)—As the baby boomer generation ages, CAPS is a niche certification that, like CGR, teaches business and project management skills. Designed to equip contractors for specialization in designing for aging homeowners, CAPS also teaches contractors to consider unique aid features such as grab bars and task lighting.
Local Building Industry Association (BIA) membership—The BIA is a local trade association for the building industry that provides services that range from education scholarships to trade shows.
National Association of Homebuilders (NAHB) membership—The NAHB hosts events, conducts research, and creates a community around ensuring that all Americans have access to safe and affordable housing.
Surprisingly, not all states require plumbers to be licensed—Kansas, Missouri, Nebraska, New York, Pennsylvania and Wyoming do not. Using licensed electricians and plumbers even when your state does not require it will preserve your home's safety and functionality. Using unlicensed plumbers, electricians, or another tradesman can create costly issues down the road.
They put their contract in writing
Get as much detail in writing as you can when drawing up a contract for your project. If complex enough, having a lawyer review your contract is always a good idea, though not a requirement. A reliable contractor will put effort into vetting subcontractors to make sure everyone who works on the project is held to the same standards. Know if the contractor you hire will be performing the work alone or with subcontractors, as well as what materials will be used, how much will be used, and how much those materials are expected to cost. Work with your contractor to develop a realistic timeline for the project as well as projected dates for milestones, such as foundation pouring, framing, and appliance installation. Make sure you're in agreement about things such as bathroom use and what hours you'd like the home to be vacant (just keep in mind that limiting work hours may extend the length of the project).
They're knowledgeable about current trends
Contractors who are in-the-know can help you incorporate current design trends as well as utilitarian elements that suit the 21st-century family. With the Go Green movement gaining momentum, many homeowners are looking to partner with a contractor who specializes in energy-efficient building. The U.S. government provides incentives for homeowners who opt to green their home remodels. The EPA's ENERGY STAR program grants tax credits and rebates for energy-efficient updates and products such as increased insulation, water management systems and appliances, recycled building materials, and more. Choosing a contractor who's up-to-speed on the latest green building trends can save you money in the long-run through tax credits and utility bills.
They're insured
Most states require proof of insurance for contractors applying for a license. Never work with an uninsured contractor and obtain proof of insurance before signing any contracts. Surety Bonds are a form of insurance that protects homeowners if contractor either does not complete the job, or fails to pay for permits, subcontractors, or unpaid supply bills. Bonding requirements vary from state to state (and even city to city), though many states require contractors to be bonded to obtain a license. Contractors purchase surety bonds from a surety company. They pay premiums to the company to keep their bond current (much like insurance premiums). Bonds may also protect a contractor's clients from being responsible for unpaid workers, damage to the property as a result of negligence, or lost or stolen property. Reliable contractors will provide you with their bond number and certification upon request. Make sure bonds are current and cover your specific project.