Making a kitchen look visually-striking involves exciting designs, functionality and huge expenditure.
You can, however, strike out the last bit on expenditure. It is possible to create a sleek and stylish kitchen space without breaking the bank.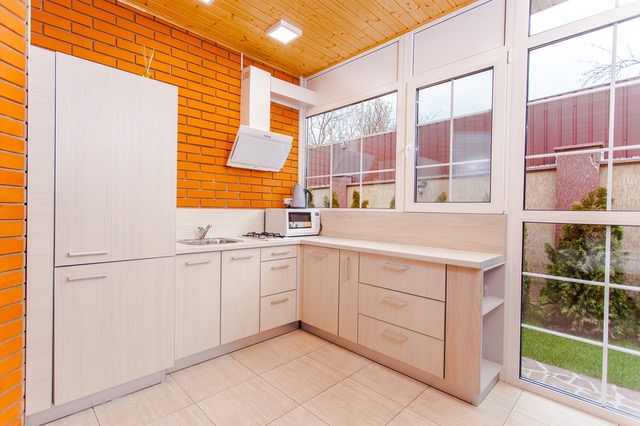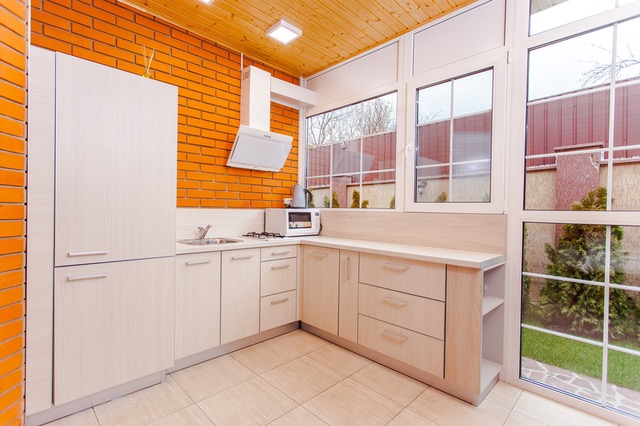 Here are a few tips that will tell you how exactly you can have an amazing kitchen even when you are on a budget.
1. Be a Smart Shopper
You don't need to always make a dent in your savings to design a kitchen that looks and feels luxe. Visit garage and estate sales to spot and pick vintage goods and exclusive pieces that will give your kitchen a sophisticated look. From a classic backsplash made from stacked-stone panels to interesting island options, you will find treasures at throwaway prices when you visit these sales. Salvage stores also stock up on eclectic options that can serve as the defining point in your kitchen.
2. Create a Feature Wall
When it comes to design, this one is a winner all the way. It's a great way to add some inspiration in your kitchen without burning a hole in your pocket. Set apart a wall in your kitchen by making it look bold, different, and classy. Either opt for a chic wallpaper or put a collection of your favorite album covers, plates or just candid family pictures and voila! Your kitchen has some serious style and personality.
3. Invest in Quality Hardware to Lend a Seamless Flow to Your Kitchen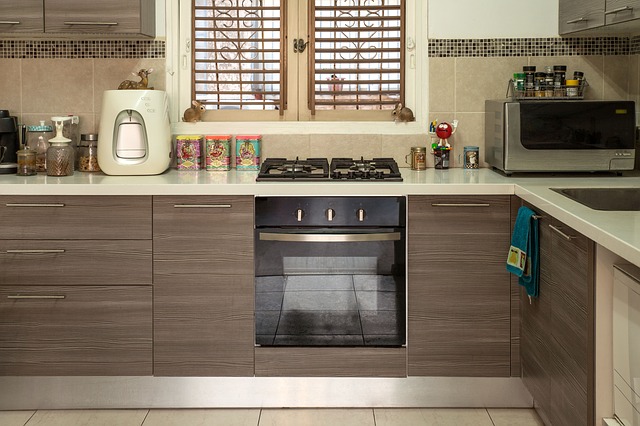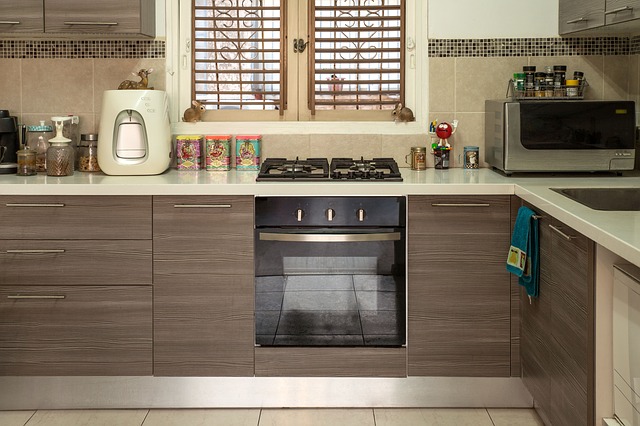 Hardware serves as the framework for good design. Invest in good-quality hardware that allows you to build a functional and stylish kitchen. Hardware becomes especially important when you face space constraints in the kitchen. Pull-out pantries that offer easy access to all shelves, corner cupboards with a contemporary take on the lazy Susan, cabinets with side-pull-out caddies for accessibility and convenience, and partitioned drawer systems for kitchen goods of different shapes and sizes. This will help you keep your floor space, walls, and counter-top clutter free and clean, consequently allowing you to incorporate more styling and decor elements. Use upscale hardware to lend an elegant feel to your kitchen.
4. Make Kitchen Layout Your First Priority
Functioning under a budget quintessentially means planning ahead and thoroughly so. Frame the kitchen layout in a way that the work triangle basics are in place, i.e. the stove, the sink and the refrigerator are just a footstep away from each other. Think of how you want the flow of your space to be and how you will include storage solutions. Keep the height of the space in mind. For places with high ceilings, consider lots of upper cabinetry solutions.
5. Ponder Over Floors
Give some thought to your floors as well. Floors are an integral part of your house. When you are designing a kitchen on a budget, you need to strike the balance between looks and cost. While wooden floors serve as a sensible option, anti-slip ceramic tiles fit in just as well for a touch of luxe and glamour, and work out at a similar expense.
6. Splurge Wisely
Desires cannot be defined by budget. You may want to give your kitchen a rich addition in the form a granite countertop, but doing so may turn out to be super-expensive. Instead, opt for the granite slab for the kitchen corner or the kitchen island. Designer Elaine Griffin presents a different perspective and opines, "Backsplashes are opportunities to express your style and personality." Griffin also goes on to explain that these do not require a ton of material to finish and, therefore, do not burn a hole in your pocket either.
7. Jump on the Open Shelves Bandwagon
Open shelving is the new buzzword in kitchen decor and design. Install open shelves in your kitchen to make it look larger and brighter, while including easy access to your crockery. Open shelves also work out less expensive than closed cabinetry, apart from making your space look a lot more inviting.
8. Opt for Lighting with Personality
Experts say that the right lighting can change the look of the room. Follow this principle in your kitchen wisely. Pendant lamps work really well in kitchens and are a must. But why not illuminate in style? Pick up pendant lights that are unique, and eccentric. Vintage lanterns, basket lights, depot lights, mini chandeliers, and hurricane pendants will light up your kitchen in style without costing a bomb.
9. Invest in New Appliances
It's not just the interior décor of the kitchen you need to pay attention to, but you also need to be aware of what goes on within the kitchen. Make your kitchen fun by investing in some cool new kitchen accessories like toast stampers, honey dispensers, and so on that not only make you look like a cooking connoisseur, but also add a fresh feel and flavor to the dishes being cooked as well.
10. Befriend Designers, Contractors and Furniture Makers
You may be an out-of-the-box thinker, but advice from experts can always be helpful. Have a cordial and friendly relationship with your contractors, subcontractors, and other people you know who work on kitchen design and improvement projects. Discuss how you want to go about the kitchen redesign, and bring them on board for installations and special improvements at a reasonable price. When you maintain good relations, this task becomes easier. Installations can also be rescheduled without costing a lot of money.
To Conclude
So whether it is a new kitchen you are designing, giving it a new lick of paint, or doing a complete overhaul of your existing one, it can be done without spending a fortune. The above tips are sure to help you out in achieving a glamorously functional kitchen. So go ahead, implement these ideas, do some research of your own and come up with more creative ideas and solutions (which you can write to us about in our comments section) and let there be no barrier to achieve your dream kitchen.
Author bio: Korie Cantor is a writer who writes about health, parenting and lifestyle. She possesses a great sense of style and loves to share her thoughts about latest fashion trends.She is a dog lover. Follow her @koriecantor