The world outside recollects in their memory that Indians are very sweet people. This intense sweetness can be attributed to the fact that we gorge on enough sweets all through our life. None of our meal seems to complete without the last layer of sweet item. Our ancestors believed that every meal should end with sweets and there are enough reasons behind that belief. We start our day with breakfast and then go out for work and thus have to meet a lot of people – this sweet item helps in retaining the sweet behaviour. You won't meet like-minded people everywhere and then after the hard day of work sweet items relaxes our nerves and help us to forget the bitterness of the day. Here are some Indian sweets which you may order Sweets online or prepare in your home and spread more happiness.
Rasgulla:
In proper pronunciation it is Roshogolla. Roshogolla is often regarded as "king of all sweets". The milky white appearance, round shape, and soft texture melts in the mouth leaving people craving for more. In any kind of special get-together or festive moments like Diwali, Bhaidoojetc, Rashogolla is a must. Sometimes flavors like mango, rose water, jaggery, or saffron are also used. Have it in chilled or warm version – you are bound to forget all worries for sure with the tsunami of sweetness in your mouth.
Mysore Pak: This sweet type belongs to Karnataka that is made up of gram flour, sugar, and clarified butter. Legendary stories reveal that it was first prepared and served in the royal family of Mysore and that's how the name came into practice. People also say that the recipe was kept a secret for many decades.
Gajar Ka Halwa: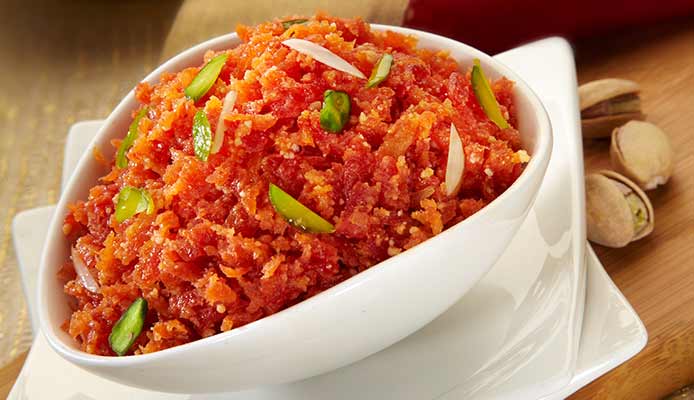 In all our household this sweet recipe keeps the winter season a lovable one. Carrot is basically a winter vegetable and thus it tastes better during winter season. A good proportion of full cream milk, sugar, mawa or khoya kheer, condensed milk, and some dry fruits are used to make this heavenly sweet item.
Laddoo:
A great variety of laddoos are there to offer you a spectrum of choice when you want to treat your loved ones with a lip-smacking sweet item. This laddoo has a variety all over India. MotichoorKeLaddoo, BesanKeLaddoo, Rava Laddoo, Groundnut Laddoo, AvalLaddoo, Coconut Laddoo, and Sesame Laddoo are some of the names which we see during our traditional festivals or normal family get-together moments. The round shaped balls are consumed with great love.
KajuBarfi: The rhombus shaped sweet item named KajuBarfi is made out of a paste of cashew nuts. Sugar and a very little amount of cardamom powder is used to make this sweet item a memorable one. During Diwali, Holi, Dusshera, or New Year, bring this sweet item and serve your loved ones.
Apart from being a lovely gift item, sweets also help in boosting up the mood and thus you can order Diwali sweets online anytime whenever you are feeling a bit dull.