With the new algorithm update by Google, website designers have lot more to learn and implement in the websites so that they can avoid the websites from being penalized and losing their search engine rank. The evolution of the world wide web is a messy process and we use the web so much these days that we have almost taken it for granted. Word processing, social networking, banking, education and shopping, everything is possible on the web. Web is also reaching new domains and is also gradually tightening its grip on the features that we've already used. In order to match that expansion, the web is constantly changing with time. There are changes that are always coming in to the world wide web and if you want to know the changes that will hit the web in 2013, here are some that you may consider.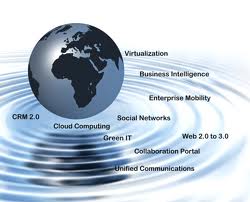 Evolution of Alternate Browsers:

We know that iOS comes with Safari, Windows Phone comes with Internet Explorer, Andriod smartphones comes with its own browser and the Android 4.x users, it is Chrome. SO, we see that it's a different way of doing things as compared to different browsers. In 2013, there will be choice where the people will be allowed to choose a future where the browsers won't be locked to particular mobile OS. IOS and Windows phone restricts any other third-party browser but Android is open to Dolphin, Opera Mobile or Opera Mini. So, we can expect a future where the browsers will no longer be locked to the mobile phones.

Firefox OS will also be Introduced:

During early 2012, Mozilla announced certain progress with Firefox. Although it failed to deliver it during the years it had planned. This particular browser-based operating system that runs the web apps will be geared towards the smartphones within a budget. IOS doesn't support Firefox and without a strong presence in the mobile market, it is impossible to spread your word. Firefox OS is going to be seen in the smartphones and therefore this will give the users a breathing space.

High Resolution Images will fill the Web:

It has been found out that the high resolution screens that are used in iPhones, MacBooks, iPads allow a new level of clarity and crispness in both the text and images. The makers of software are also updating their programs with graphic elements, icons and rather new abilities to take advantage of the displays. As mobile devices are usually held more closer to the eye, using higher pixel densities with physically smaller screens will always work. All the old assumptions aren't any more valid and therefore this will be the age of "responsive images"
So, if you're someone who is wondering about the changes in the web in 2013, you should take into account the above mentioned points. If you're planning to create a website for your business, make sure you take the above mentioned steps into account as this will also boost your seo efforts and help your website grab a higher search engine rank.