The season may be half over and some might already have end of summer parties and university classrooms on their minds, but that doesn't mean you can't still take advantage of ways to keep your fab summer look going strong.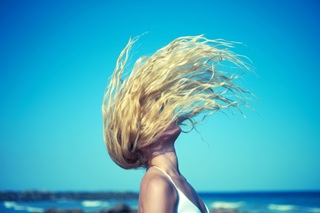 However, the middle of the summer is also a great time to change your look up. Not only does it mean that you can show up to pool parties looking like a whole new you, but this also gives you some time to play around with your look for fall, especially if you're going to college for the first time and want to impress.
So whether it's your hair, your makeup, clothes, or more, these are five ways you can change up your summer style before the season's end and ways to fit that look into fall as well.
1. Makeup
Summer makeup is traditionally meant to be minimal and to highlight your natural summer glow. However, the natural look usually requires products to achieve that coveted natural look so you'll want to ditch the dark eye shadows and heavier moisturizers and foundations for items that are more sheer and light. If the day is particular hot and humid consider using a fixing spray to keep your makeup in place.
For a beach day tinted moisturizer with sunscreen, waterproof mascara, and lip gloss are typically all you'll need. If that beach party carries over into the evening bring along some powder, shimmery shadow, and a neutral lipstick to ensure that you glow in the firelight.
2. Hair
More women complain about their hair during the summer than at any other time of the year. Women with curly hair suffer from frizz issues and women with fine hair find their tresses wilting in the heat. Rest assured there are ways to combat these and other summer hair issues.
If frizz is driving you crazy consider skipping daily shampoos, which dries your hair out. Also consider the use of products like argan oil to keep the frizzies at bay. For those with fine or thin hair consider using hair extensions. Whether you go for the clip in variety or those that are placed professionally by a stylist, extensions help add fullness and volume to achieve that perfect beachy look.
3. Swimwear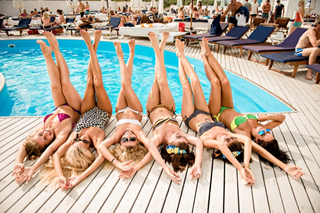 Swimwear designers have embraced the body positive movement and are creating more designs and styles that suit every type of beach body. Whether you prefer Brazilian bikinis or a more athletic one-piece there is a swimsuit style that will have you looking and feeling your best.
Swimsuit shopping, on the other hand, is not always easy. Some experts recommend bringing along your favorite bra and panty style to help determine which fit and style makes you feel great.
4. Day and Night Wear
Summer is definitely the time to have fun with your outfits and wear the things that you normally can't because, well, it's cold. High-waisted shorts and crop tops, flowy maxi dresses, and cute minis are all great choices to not only help you feel great but also keep you cool.
If you're going to a beach party bring along a cover up that can also serve as a dress when the sun goes down. Add a few pieces of jewelry and a touch up of your hair and makeup and you'll go seamlessly from day to summer night.
5. Party Time
There might be an occasion when you have a more formal summer event and in this case you shouldn't pull your punches. Use all the above hair and makeup tips to keep your hair fabulous and your face glowing, and if it's an outdoor party makeup fixer is a must.
Be sure to stay hydrated which not only helps keep you alert and ready to mingle, but also helps to keep your skin looking fresh. Pick a flowy maxi dress made of a light material like rayon, which also doesn't easily wrinkle. Keep your jewelry choices fun but be sure they're not going to tug at your hair or cause the back of your neck to sweat, as can be the case with some necklaces. Once you have your look down relax and enjoy yourself.
Summer is more than halfway gone but you still have plenty of time to enjoy it and look your best. Follow these great tips and ensure that the second half of your summer is as great as the first.