November 15, 2017, the Memorandum on cooperation for providing help to people who suffered from natural disasters was signed between the Non-Governmental Organization Red Crescent Society of the Republic of Kazakhstan and Bulat Utemuratov's Foundation.
The sufferers will be able to get funds via ForteBank payment cards. The cards will be issued by the Red Crescent Society employees. The funds will be transferred in two steps: 33 million tenge were transferred in 2017 and the same amount will be sent this year.
The Foundation plans that the amount of money transferred to one card will differ depending on the person's needs. It should vary from 20 to 30 thousand tenge. This money should be enough for purchasing food, means of personal care, and the most necessary things to survive the first few days after the natural disaster. It should be noted that this help will be provided in addition to the state welfare support.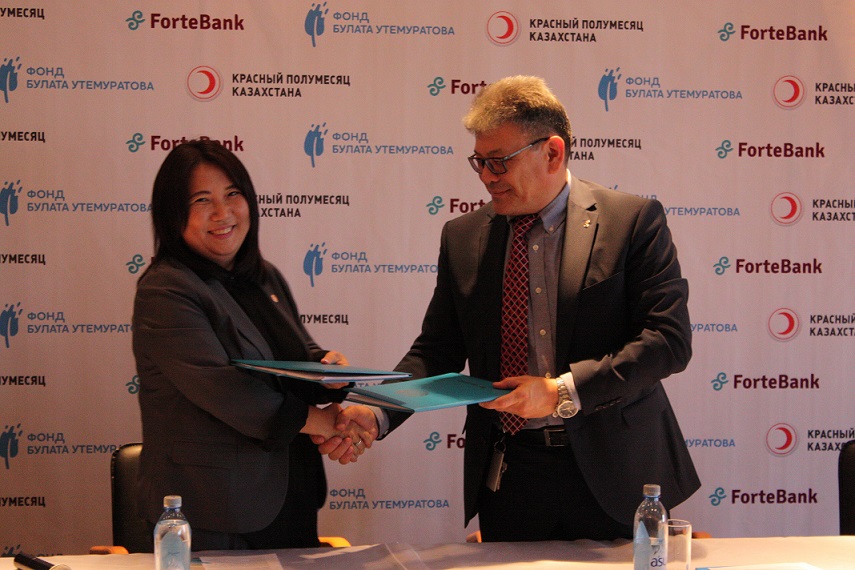 Bulat Utemuratov, the founder of the Foundation said that he could not stand by when people are homeless, without shelter and food. Foundation, ForteBank, and Red Crescent Society will join the forces to help people in need. Ha also asked other philanthropists and organizations for support in this important project.
As was stated by Yelena Kim, General Director of Kazakh Red Crescent, when it comes to responding to natural disasters and providing help to people who went through them, their charity organization had lots of practical experience. They use the newest international practices to improve the methods and mechanisms for support provision. Thanks to the signed memorandum and cooperation between the bank and two charitable institutions, persons affected by natural disasters will get quick and effective support.
According to Magzhan Auezov, Chairman of the Board of ForteBank JSC, the bank is fully prepared to take responsibility of providing fast support to people in affected regions. He ensured that ForteBank will apply straightforward, simple, consistent, and trustworthy solution for making the process of obtaining help as easy and convenient as possible. Magzhan Auezov also noted the signed Memorandum was a significant step that launched a huge charitable project.