Each year, tens of thousands of people head out to Turks & Caicos with really only one thing on their mind – the deep sea fishing experience they've always dreamed of. It's really no secret that there is nowhere in the world that offers quite the same incredible fishing opportunities as the Caribbean. Keen anglers and enthusiastic newcomers from all over the world flock to the gleaming blue seas of this fishing paradise for a taste of pure angling nirvana.
Of course, these days it's relatively rare to come across a deep sea fishing charter service that isn't offering anything but five-star packages and service provision. Nevertheless, there always have been and always will be significant differences from one provider to the next, which is why it's of crucial importance to be proactive about the booking process, as opposed to taking things for granted.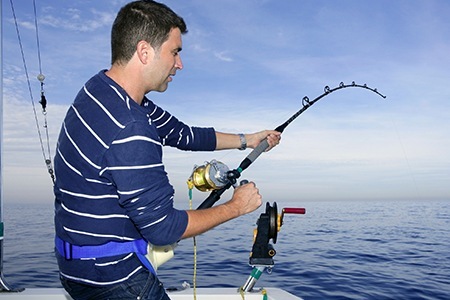 So with this in mind, what follows as a quick rundown of six essential rules to bear in mind to ensure that the charter trip you book really is everything you dreamed it would be:
1 – Beware Bargains
First up, you need to be realistic when it comes to the kind of price you're willing to pay for the fishing trip you intend to take. Now more than ever, it's not difficult to come across great deals and genuinely impressive special offers – trips that are practically being given away however should set alarm bells ringing.
What's important to remember is that it's astonishingly easy these days for anyone wishing to do so to buy a cheap boat, build a cheap website and bill themselves as a professional charter service. Needless to say, it's unlikely they'll live up to expectations in any way, shape or form, so be careful who you book with if you're on the lookout for a bargain.
2 – Don't Forget the Skipper
Heading out on a great boat is one thing, but if it's under the control of a captain who a) doesn't know what he's doing and b) doesn't care either, chances are you are not going to have the best of days. The quality and experience of the skipper is overlooked with astonishing frequency, despite the fact that it can and will have a marked impact on the outcome.
It's not a case of having to go so far as to interview each prospect, but rather one of seeing what's said about the skipper's skills and experience on the company's website. And if they don't appear too keen to share any details, beware!
3 – Book Ahead, Save Money
A quick point but an important point nonetheless, more often than not you will gain access to the best deals and the very best charter packages by booking in advance. Those in high demand tend to book up and sell out extremely quickly throughout the year, so do yourself a favour and plan ahead. And on that same note, be wary of any service providers that seem to have nothing but free time while their rivals are all booked up – why do you think this might be the case?
4 – Know What You Need
Don't fall into the trap of assuming you know what it is you will need to take along and what is provided on your behalf. It is usually made abundantly clear during the booking process as to what is supplied by the charter company and what needs to be brought by the guests themselves.  Of course, the actual fishing tackle and equipment will almost always be provided – the same cannot necessarily be said for food and drink.
So once again, it's simply a case of finding out for sure by checking the terms of the booking and speaking to the charter provider if necessary.
5 – Beginner, Amateur, Pro
An enormous variety of deep sea fishing charter trips are arranged in accordance with the skill levels of those taking part. As such, it's of critical importance that you check out the required skill level of the trip you wish to take as you do not want to find yourself either out of your depth or bored to tears having booked to go out with a completely inappropriate group.
6 – Flexibility
Last but not least, you should also take the time to look into the matter of flexibility prior to booking your trip in order to ensure that should you need to do so, you can make alterations as required.  It is of course inevitable that trips cancelled at a later stage will usually have to be paid for in order to prevent the company losing money, but it shouldn't be too much to ask to make modifications in advance of the trip when and where necessary.