After college my husband and I started shopping for a house. We both had a list of things we wanted in a new home. For him it was a shop, man cave, and a yard big enough for the dog. For me, it was a walk in closet, a big kitchen with granite countertops and a hot tub. Eventually, we found the perfect home that included everything and made an offer. We were going to purchase the dream home I had imagined since high school. Before living the dream however, the buying process was quickly put on pause for safety concerns. This is when we learned a lot about being a homeowner and what it means to consider safety.
A few weeks into the buying process we looked into getting home owners insurance. We got a report back from our insurance company indicating that our hot tub was a safety concern. They mandated that we make the hot tub safer before the home would pass inspection and be covered. When my husband and I heard this, we stared at each other and wondered "the hot tub is unsafe?" The insurance agent discussed the need for our hot tub to have several adjustments. Not all these adjustments were necessary, but some were great recommendations. I want to share these recommendations with you to help you ensure that your hot tub is safe.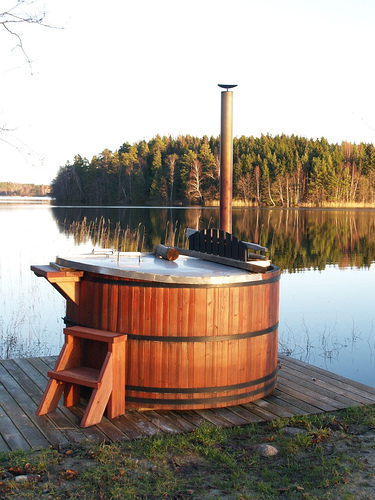 Hot Tubs Should Have a Cover
The insurance agent indicated that we had to have a cover (preferably lockable) that would deter any home intruder from falling in the hot tub. He gave us the example of a neighbor girl that went to other neighbor's house and fell into the hot tub and was not able to get out. Having a cover prevents accidents with people and animals.
Hot Tubs Should Have a Temperature Regulator
Hot tubs can be too hot if they are not regulated. The temperature of the water must match the temperature of the electric hot tub regulator. Unfortunately ours did not match. Not only is this dangerous for hot tub owners, but soaking in elevated temperatures for long periods of time can have damaging consequences on the body. Plus, no one wants to get into a hot tub that is to hot!
Hot Tubs Should Have Protective Caps on the Filter/Drain
The last thing you want to have happen is to have your hair or clothes sucked into the drain. This is dangerous for you and any hot tub guests. A protective cap also ensures that large debris is not getting stuck in your hot tub jets and breaking the jet system.
Hot Tubs Should have Safety Steps and Railing
Safety Steps and railing is a good idea for everyone who enters and exits the hot tub. Since most hot tubs are elevated a few feet in the air, safety railing and steps help people get in and out of the hot tub without tripping. The last thing you want is someone slipping as they get in or out of the hot tub and hitting their head or breaking a leg.
Hot tub safety is a good idea for everyone and is essential for homeowners trying to promote good safety and insurance practices. Once my husband and I had graduated from college, consolidated our student loan debt, and saved enough money for a house, we were ready to relax in our hot tube and enjoy the benefits of our labor. We were ready to BBQ, order party supplies for a luau, and have a hot tub party with our friends and family. Be sure that when you buy a hot tub or a home that comes with a hot tub, you take the proper measures to ensure everyone's safety. This helps everybody have a safe and fun time.