When you think of Las Vegas, what is the first attraction that pops into your head? We're willing to bet it's one of the world famous casinos that lines the Vegas strip. However, there's a lot more to this incredible city than just gambling establishments. We've handpicked some of the best attractions in Las Vegas that don't require poker chips to enter.
See a Show
What better thing to do than see a show in the Live Entertainment Capital of the world? There is something for everyone in Vegas, from musicals like Jersey Boys to superstar performances from Elton John and Celine Dion. Show tickets range in price, depending on when you visit and what you want to see. The atmosphere at a Vegas theatre is unlike anything else, so make sure you try and see at least one show whilst on holiday. You can find a schedule of shows online that will help you pick which is best for you and your travelling companions.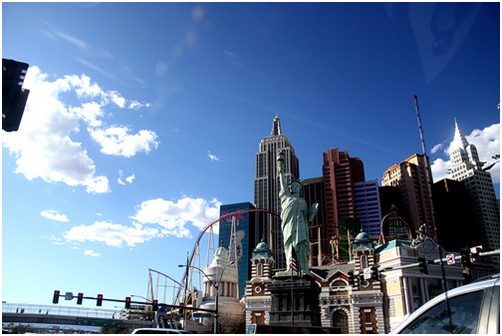 Drive along Famous Routes
There are several companies in Las Vegas that will let you enjoy a completely unforgettable driving experience in one of their supercars. Whether you want to drive a lamborghini through the Red Rock Canyon, or an American muscle car down Route 66, there is something that will get every thrillseeker going. Driving is a great way to see some of the sights in Vegas, that you may not see by just staying at the strip.
Visit Battlefield Vegas
Voted as the number one attraction in Las Vegas, by travellers and tourists alike, is the incredible Battlefield Vegas. Originally created for history buffs to learn more about the American army, this has actually become a hotspot for anyone; history lover or not. Get picked up from any of the Las Vegas hotels with Venere by a real military vehicle and explore the huge 5 acre facility that is packed with wartime memorabilia and activities to take part in.
Take a Trip to Red Rock Canyon
This beautifully scenic tourist hotspot is perfect for those who want to get away from the hustle and bustle of Vegas. Red Rock Canyon is a National Conservation Area that attracts millions of visitors every year; it also makes for some fantastic photo opportunities. You can organise a tour round the area or just pop on your hiking boots and discover this natural beauty for yourself.
Get Married
What else is Vegas famous for, other than the casinos? Wedding chapels, of course! There are over 50 licensed chapels in Las Vegas, all with their own unique selling point. Whether you want to be married by Elvis or experience something a little bit more traditional, there is something for everyone in Las Vegas. One of the most popular wedding venues is Chapel of the Flowers, which has won numerous destination venue awards by wedding magazines and experts.
This is just a fraction of the things you can do in Las Vegas, that doesn't involve gambling. If you don't believe us, take a trip yourself and see what you think!