Hot tubs and mini swimming pools certainly offer a lot of enjoyment. They serve as the perfect way to relax with a partner, lounge around and are also quite beneficial to the health as well. It is no wonder that these hot tubs are being purchased all over the world.
While you may have your eyes set on hot tubs Toronto, you must remember that amidst all the fun and excitement, these tubs can also be accident prone areas. As such, you are strongly advised to understand the safety needs and requirements of a hot tub before opting for a purchase.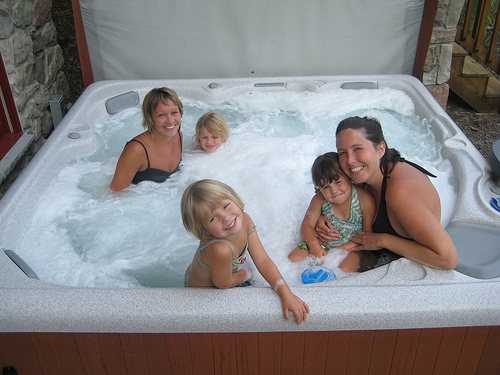 Safety Tips Related to Hot Tubs
While hot tubs can offer a great deal of pleasure and enjoyment, there are also many precautions that need to be followed for safe usage. Here are some safety tips which should be kept in mind when considering a hot tub.
– Disinfection and Cleanliness
While there are some types of self-cleaning and disinfecting tubs in the market, it is always the responsibility of an owner to ensure that the water in a hot tub is always kept clean and disinfected.
– Total Number of People
Every hot tub has been manufactured to house a particular number of people at one point of time, which should never be exceeded. Owners must ensure that they take care of this.
– Temperature of the Water
While it may be called a hot tub, the temperature of the water should always remain warm and should never exceed 107F or 40°C
– Children
Children stand a higher risk of overheating in hot tubs as compared to adults. Access to the area should be restricted and children should only be allowed access to the area under adult supervision.
– Pregnant Women
Pregnant women should refrain from staying in a hot tub for too long, typically, under ten minutes. Since pregnant women can overheat quicker than normal individuals, care must be taken and attention paid to any signs of discomfort.
– Alcohol and Drug Use
While hot tubs are generally safe to be used, the chances of accidents occurring increase under the effect of alcohol and drugs. Some drugs induce sleep while alcohol reduces motor control, in both cases, increasing the risk. Hot tubs should be used with care when under alcohol or drugs.
– Other Safety Tips
Hot tubs and surrounding areas tend to become very slippery. Care must always be taken around these areas and running should be strictly forbidden. As a precaution, handrails may be installed so as to lessen the chances of accidents occurring.
After having considered these safety tips, you're ready to select from a range of hot tubs in Toronto. Featuring a large selection of the latest hot tubs to be offered by leading brands, including self-cleaning tubs, serenity hot tubs and micro swim spas, it all comes down to your personal preference of which type of tub you would like to have installed in your home.