Human beings have been having wedding ceremonies for thousands of years and we have several traditions that have been passed down through the generations. When you are planning your wedding, what traditions will you incorporate into your ceremony?
Examples of Wedding Traditions
Here are some of the common wedding traditions that you will find at a typical wedding:
The Bouquet Toss – Did you know that this tradition started when single women would rip off pieces of the bride's dress for good luck? Brides started to get fed up with this, so they tossed their bouquet to single women instead.
The Garter Toss – This also came from the same origins, with single wedding guests believing that owning a piece of the wedding dress would bring marriage prosperity and good luck.
The Bridal Veil – This wedding tradition symbolised purity and virtue – a new beginning for the happy couple. However, these days many brides are choosing not to wear a veil – the choice is up to you when you buy wedding dress online.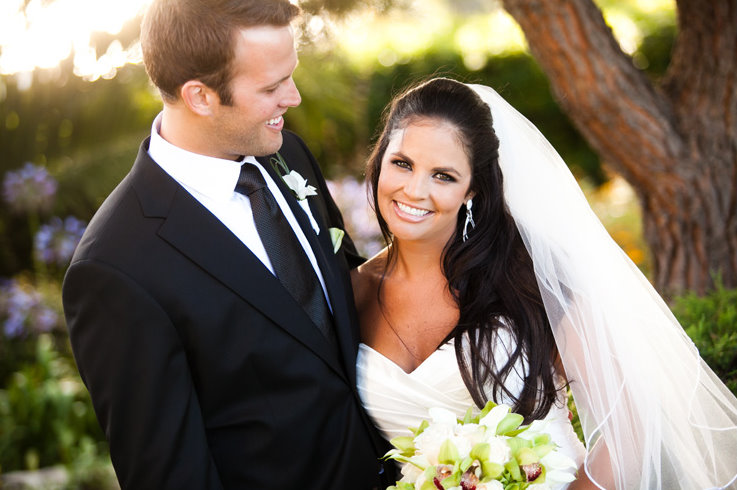 Ideas for Something Old, New, Borrowed and Blue
Everyone knows the old English rhyme that states that you should have something old, new, borrowed and blue – as well as a silver sixpence in your shoe. Here are some ideas of how you can incorporate this into your wedding:
Something Old
This represents the past moving forward into the future and your "old" object could be anything old that symbolises the bride's past. You could wear a vintage heirloom piece of jewellery that belonged to your mother or grandmother, use your childhood pillow for your ring bearer's pillow, have the wedding at a historic location, or even sew one of the buttons from your father's old coat onto the inside of the wedding gown.
Something New
This represents hope for the future and the new life of the bride and groom. You could purchase a new perfume and wear it for the first time on your wedding day, add a new charm to your bracelet, wear new lingerieor even get a new hairstyle.
Something Borrowed
This symbolises sharing happiness with friends and family. It is typically borrowed from a friend or relative who is happily married, but it doesn't have to be. Make sure you return the borrowed item after the wedding day!
You could borrow your father's silk handkerchief, your sister's hair baubles or even borrow a family member's time share for your honeymoon. You could also borrow a song from the bride or groom's parent's wedding to dance to.
Something Blue
The blue item at your wedding symbolises good fortune, fidelity and love. Even if blue isn't part of your wedding colour scheme, there are still many ways that you can incorporate it into your special day. You could wear a blue garter, use blue confetti, have a blue ribbon on the bride's bouquet or even paint your toenails with blue polish. You could drive a blue car between the ceremony and the reception or carry a blue makeup purse.
When choosing a beautiful wedding dress, keep these traditions in mind and how you can incorporate them into your wedding.