Infographic is cool way to convey or describe a complex piece of information quickly, precisely and clearly. Luckily, nowadays Infographic is count as an SEO tool due to the recent algorithm changes. It allows infographics to be scanned for SEO keywords and just made things a lot easier for many businesses, as more and more number of people are looking for images rather than reading articles.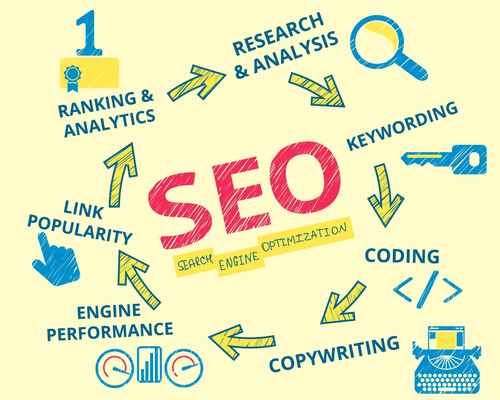 How Infographics help SEO?
Well, a visual representation of information that ties a lot of ground and uses enough stats and percentages, all together in an image can benefit an SEO campaign. Because, if it's a good piece, it will be shared among social networking sites and help you build your link portfolio. A good one empowers readers understanding by breaking down complex information into simple and digestible chunks.
Have a look to know, why high-quality Infographic is an important part of inbound marketing:
Ever Green Assets: Easy to Decode, Share, and Link: According to the surveys, 40% of people will respond better to visual information than text. Thus, the infographic has jumped on the visual bandwagon with guaranteed measurable results for the marketers.
Few contents might gain you a spike of social shares, but with an infographic, you'll get an evergreen linkable asset that retains relevancy.
Recyclability: Easy to convert into a White Paper or Press Releases: Market professionals can re-apply the same research and data of infographic to elsewhere for creating additional inbound marketing opportunities.
Network Builder: Strengthen Your Links: Infographics can penetrate through the technologically complex industries where traditional barriers for content and guest posts is high.
Earn: Get Quality Inbound Links and Editorial links in Guest Posts: It also helps sites in niche, difficult industries to earn links from other markets. You can also build editorially sanctioned links to your content through it as nowadays webmasters are adopting stricter external linking policies. And this can simply offer you an excuse to link back to your site.
Visual-Memory: Easy to Explain Complex Information: According to psychology experts, visual have massive pedagogic and mnemonic value. In infographics you can condense important tables, charts and data into a single canvas. This means it's more user friendly and easy to digest.
Stat-Jacking: Get Link Credit for your Stats: Avail link credit for stats in your infographic. This will be beneficial for both, you and the other site that you've mentioned as your references.
Affordable and Easy: These are easy to make, if you want to try it on your own. However, you can also find plenty of high-quality freelance graphic designers in low budget.
Great Marketing Tools: You can turn the information and statics into major marketing opportunities through infographics, for your brand.
Measurable Results and High ROI: Infographics can provide more value to marketers than text as they offer quick measurable results in the form of social shares, backlinks, citations and traffic. This ultimately leads to high ROIs.
Infographics are trending now and a fantastic way to reach the crowd. So, give them a shot.