Rosewater is flavored water made by steeping rose petals in water. It has a wide array of uses e.g. to flavor food, in cosmetic and beauty industry, as well as for religious purposes in some European and Asian country. Rosewater is praised for its beneficial effects on skin, and many beauty bloggers swear by it. It is gentle and hence suitable for all skin types including dry skin that is prone to irritations. To find out what benefits rosewater can offer to dry skin, keep reading this article.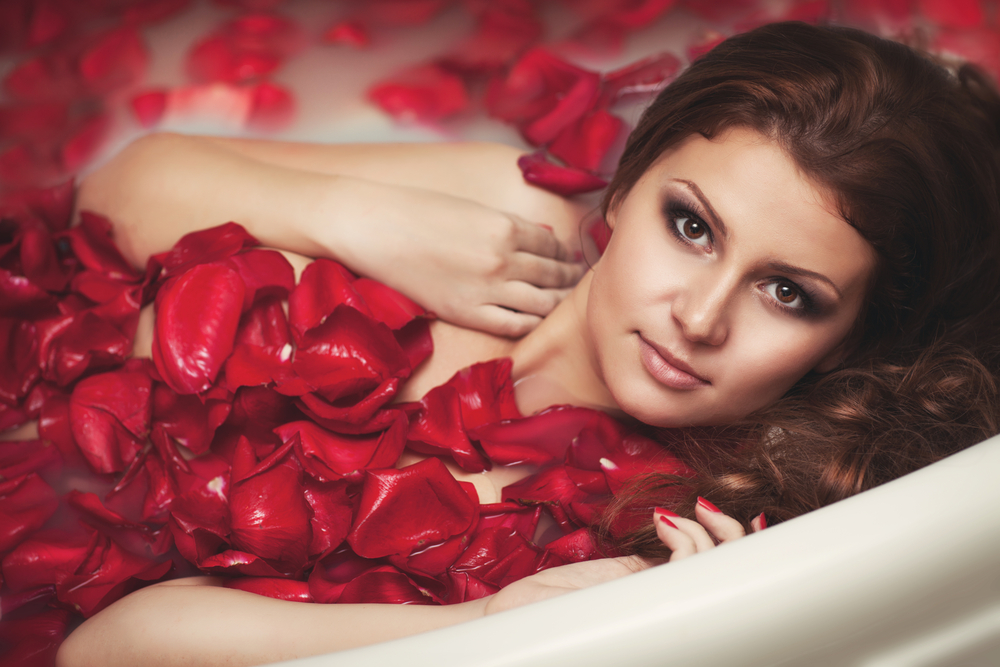 1. Soothes skin
People with dry skin struggle finding products that won't cause irritations, redness, and rash. To have a healthy and youthful skin without irritations, your best bet is rosewater. Why? The reason is simple; it is known as an excellent antiseptic and recommended for relieving irritations. Its antiseptic properties make it excellent for people with oily skin as well due to acne-preventing effects.
Due to antioxidant and anti-inflammatory properties, rosewater can soothe red and irritated skin thus preventing more serious complications. You can use this water as cleanser or toner to treat and nourish your skin.
2. Eliminates dark circles and under-eye bags
We all have to deal with dark circles and under-eye bags from time to time, and it never gets less frustrating. Although everyone can get dark circles and bags under eyes, they are more prominent in people with dry skin. It's because dry skin is indicated by rough, dull, and lifeless appearance which is why signs of aging or exhaustion are more noticeable.
Rosewater poses like a natural and effective way to tackle both bags under eyes and dark circles because:
It soothes delicate under-eye skin

Restores pH balance

It's rich in antioxidants that strengthen and regenerate skin

It reduces swelling

Revitalizes skin
Delivers variety of vitamins, minerals, and other nutrients to your skin
You can use rosewater to eliminate dark circles and under-eye bags in a number ways. For example, you can simply wash your face like you always do and apply it with the cotton ball onto the affected areas and rinse with cool water in 15 minutes. You can also mix rosewater with other ingredients such as milk, almond oil, cucumber, etc.
3. Prevents sunburn
Rosewater is an excellent vacation companion. It not only prevents sunburn but also calms the redness and burning associated with sunburn due to its anti-inflammatory properties. This is useful because sunburn can only contribute to roughness and dryness of your skin. The best thing to do is to refrigerate rosewater and spray it once you return from the bright sun. Be careful; don't spray it while you're sunbathing on the beach as it could decrease effects of sunscreen.
3. Hydrates the skin
Dry skin is characterized by a lack of moisture and insufficient sebum production to stay smooth, soft, and nourished. However, our skin needs regular hydration as well as normal sebum production to remain youthful and healthy. If you have dry skin, you're probably frustrated with its rough texture and this is something rosewater can help you with. One of many benefits of this beauty "tool" for dry skin is hydrating, revitalizing, and moisturizing skin thus giving it refreshed, smooth, and soft appearance.
The best way to use rosewater to hydrate the skin is to incorporate it with other ingredients. Here, this powerful ingredient provides moisture while other ingredients lock it in thus keeping your skin smooth and nourished. For instance, you can use the mixture of coconut oil, rosewater, and glycerin in 3:1:1 ratio to hydrate your skin. Shake the jar or a bottle before you apply the mixture as ingredients separate on standing.
4. Repairs the aging skin/improves complexion
Rosewater is packed with antioxidants that inhibit free radicals and prevent any further damage to the skin thus slowing down the appearance of wrinkles and fine lines. This ingredient is not only effective for aging skin repair, but it's also one of the best skin brighteners as it encourages blood flow thus contributing to the clear, bright and radiant complexion.
Conclusion
Rosewater is well-known for its skin health benefits. It successfully tackles signs of aging, improves blood flow to provide bright complexion; it flushes away impurities from your skin for radiant glow, etc. Another benefit of rosewater is its versatility; you can use it in different ways to get optimal results. If you have dry skin, this is something you should consider using.
Video- How to Make Your Dry Skin Moist?
Author Bio
Kathy Mitchell was born in the USA. She has done MA in English Literature. She loves to publish her article on different health and beauty websites. She is contributing to Consumer Health Digest. Recently she had the opportunity to review skinmedica tns eye cream. Follow her on Google+, Facebook and Twitter.