Pilates was developed by Joseph Pilates around 20th century, during the World War I as a rehabilitation program for injured soldiers, helping them to regain strength, stability and build key muscles. Today, Pilate classes are offered to build flexibility, strength and strong muscle tone with special focus on body's length and spine alignment instead of shortening and bulking of muscles.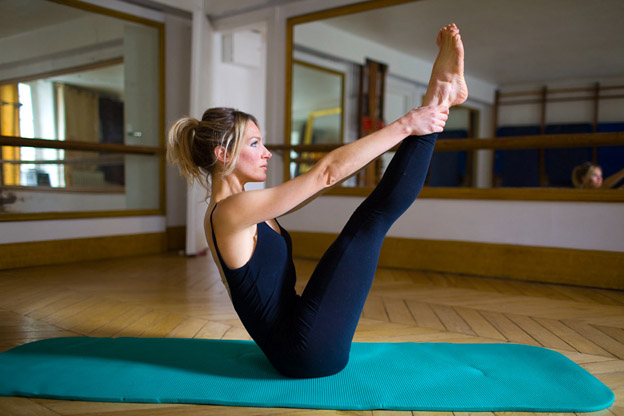 Pilate Health Benefits
Rigorous scientific examination reports several health benefits of Pilates. According to experts, practicing pilates on a regular basis helps improving the muscle tone, posture, joint mobility, and balance in addition to relieving tension and stress. Pilates also bestow wonderful health benefits for elite athletes such as dancers, strengthening the development of their body muscles to not only add flexibility but also reduce injury risk.
Helps to Relieve Back Pain
Pilates also helps to relieve back pain, particularly lower back pain. An apparatus enables patients of lower back pain to perform exercises with support. However, to achieve lucrative results, exercises have to be customized according to the needs of an individual and must be inspected only by an experienced and certified health expert, since pilate instructors are not medically qualified to prescribe treatment or offer any therapy.
Helps to Maintain a Healthy Weight
Known to strengthen muscles, Pilates also help individuals to maintain a healthy body weight. Different levels of classes are offered ranging from a gentle to a dynamic and concrete workout. It is recommended to practice pilates in combination with healthy diet and aerobic activities like swimming, cycling and walking.
Difference between Yoga and Pilates
Both yoga and pilates help to develop balance, strength, flexibility, good posture and breathing through different methods. However, yoga emphasizes more on relaxation by employing meditation. The main difference is that Pilates' exercises are performed with a movement flow and can be practiced through an apparatus, whereas classic yoga does not need any equipment and only revolves around the static poses.
Pilate Classes
Pilate classes are either taught in dedicated pilates studios by using an apparatus or in open areas on mats with small equipments. A pilate class usually lasts an hour. Group pilate classes are also popular, but require a degree of experience to use special equipment and apparatus before joining a particular class group. So, register in the small pilates classes in Melbourne to enjoy the aforementioned health benefits.