Your watch is not just your time piece. It is who you are. There is a reason connoisseurs stick to their favourite brands for almost their lifetimes. Their watch is a narration of the person they are, what they like and how they feel. They say you don't pick your watch, your watch picks you. Ask any watch lover and you would know it is true. One fair conclusion then is that the watch you wear is not an arbitrary decision – it is an amalgamation of decision-making and thought, a reflection of your inner being.
If you haven't found the one that is made for you, it is probably time to start looking at the right places. Online retail outlets are hot these days. But, make sure you end up at the authentic place. We suggest you begin with Hublot watches collection at Ethos Watch Boutiques. While we find almost all their collections fabulous, we believe Hublot as the brand has something for everyone. Just keep these things in mind.
1. Style
Some you like and some you don't. But the most important decision to take on this front is what to buy amongst what you like. Some models across this range we would recommend:
A. Timeless Taste, Model: 581.NO.1181.RX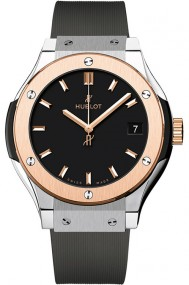 Those who feel like they're born in the wrong century, and miss the styles gone by, fret not. The times immemorial have been well-preserved, in small yet beautiful watches. The gleam of the leather, the slight yet significant shine of the gold on the dial, and clear number strikes on the dial not only promise classical magnificence, but also allows fusion with contemporary designs; thus giving the model an unexpected twist. For those who like subtle novelty but not vivid experimentation, this is the model for you.
B. Chirpy Class, Model: 542.NE.2010.LR.1204
Those who are fond of experimenting, but want it light and breezy can always opt for some fun options in the range. Classy beyond words, this model is out to impress. With a white satin appearance, the dial of this watch is studded with white rocks, exuding a shine of its own. This blitz is not just glittery, it is glowing!
C. Formal Finesse, Mode: 521.CM.1771.RX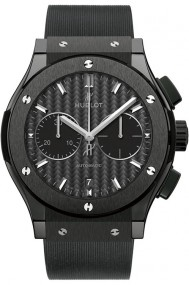 There are many who want an accessory to not only compliment their attire in fancy meetings, but to also boast of silent stature. For them, the best bet is this magnificent chunk of accessory that will take breaths away wherever you go.
2. Convenience
For once, let us talk about watches in the capacity they're meant to be – to make our lives easier. Right, folks? But what is the harm in having you cake, and eating it too? For those who do not like the hassle of 'reading' a watch can simply watch it now. Hublot has come with a wide range of unique looking analog-digital watches, ready on display.
3. Colours
Colours are very important in one's life. There are so many things to look for – the colour of the dial, the shade of the strap, and a perfect blend of the two. Who can do this better than Hublot? Beating all odds, this model has managed to make a combination of checkered maroon dial with rose-gold rim absolutely chic!
4. Uniqueness
What is the fun in the plain old when we have so many topsy-turvy options in the market today? No wonder people go for something different – something to brighten their attire. And what is more unique than broad patterned straps with a silver-crusted dial? It is sporty, with tons of sass!
Next time you go watch shopping, watch out for these elements. More often than not, it will be easier to shop for exactly what you want once you know the things to look for. It is easy, really. Look for what pleases you and comforts you, with a twist! And then enjoy your treasure with utmost delight – because it is always worth it.