Not many people are familiar with forklifts and those who know might not know its various functions, types, and forms available in the local market. For those who do not know, forklifts are like trucks but with greater power and an ability to lift things that are otherwise cannot be moved or raised with human power. There are many kinds and forms of these trucks available for various different chores and operations. Every industry employs a specific kind of forklift depending on its needs and requirements. However industrialists, manufacturers, builders, and factory owners must be familiar with various kinds of forklifts available in market so that they can make a better purchase without any regrets later.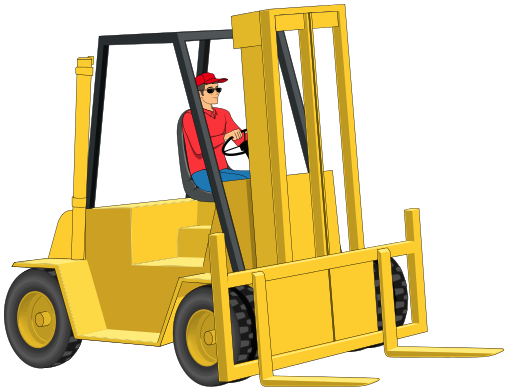 Popular and Common Types of Forklifts
Following are some of the common forklifts used widely across industrial sector.
The Counterbalance Forklifts
The counterbalance trucks or forklifts are the most popular type of forklifts and is the one that we commonly see at construction and building sites. Such types of trucks incorporate forks that extend from the front and have no legs and arms allowing the vehicle to move to the desired location without any hurdle or obstruction. No additional machines are required for bringing the truck to the site and this makes things quite easier. These kinds of trucks are powered by diesel, electricity, or gas and come packed with tilt functionality, side shifts and driver cabins. Call forklift dealers for additional information and guidance pertaining to the counterbalance trucks.
The 3 Wheel Counterbalance Forklifts
The three wheel counterbalance forklifts function similarly to basic counterbalance trucks but they have an extra wheel in the center of the machine at the back side for more maneuverability. These powered trucks are ideal for workplaces where the area is limited as these trucks can move around with greater flexibility and execute marvelous maneuverability. These trucks are also good for workplaces that demand outdoor and indoor use along with loading and raising needs. The three wheel counterbalance forklifts result in enhanced productivity and help industries bag great profits.
The Reach Forklifts
The reach forklifts are manufactured primarily for the functions to be performed in the warehouse. These trucks offer greater flexibility for lifting weights to great heights seamlessly. Its gets its name from the fact that it's able to reach out extensively without any limits allowing the workers to lift weights and objects to varying heights.

The Hand Pallet Trucks
Another popular type of forklifts includes hand pallet trucks or more commonly known as pump trucks. These trucks are manufactured to move palletized objects and can lift weights up to thirty five hundred kilograms. These forklifts function by pumping the handle for lifting the forks and then move the objects with the help of handles.
These are some of the most common types of forklifts used in the industrial sector and the knowledge of their functionality and operations will help industrialists make better choices when choosing powered trucks for lifting and moving loads.
Author' Bio
Catherine is an experienced writer who specializes in writing guides and reviews pertaining to industrial equipment and tools. Her thoughtful articles have helped hundreds of people to rent forklifts that are suitable for their business.