There are some stunning wedding venues out there but many might be out of your budget or may place too many restrictions. By hiring a marquee, you gain much more flexibility to allow your day to turn out perfectly.

Choose your own venue

The best thing about a marquee is that it can be erected almost anywhere. Use one in your garden for a small gathering, or in a field for larger numbers.
A unique space

A marquee is flexible and is built just for you. Pippa Middleton hired a glass marquee for her recent wedding, which helped keep her guests dry when the heavens opened.
Blank canvas

Whatever your theme is, a marquee can be made into your perfect setting. There are no restrictions or features that might not fit with your theme like in other venues.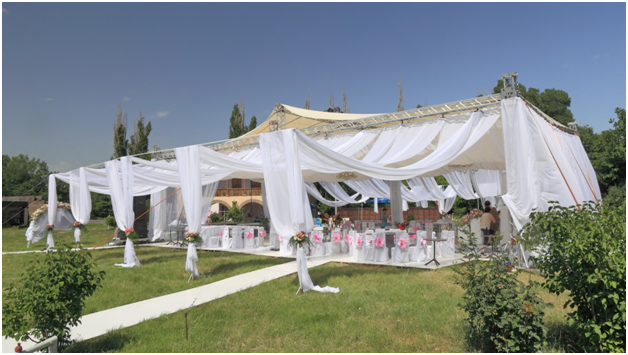 Be part of the designing process

There are many forms of tensile structure to look at, such as the ones found at http://fabricarchitecture.com/, so don't be afraid to ask for help and give your input to the hiring company to make the marquee perfect for you.
Break outside of tradition
Using a marquee gives you the freedom to do exactly what you want. You don't need to have a traditional wedding to have the perfect day.
More flexibility

Other venues will restrict the number of guests you have. With a marquee you can have it as big or as small as you want, it's completely up to you.
Outside

One great advantage of having a marquee is the ability to bring the outdoors inside. Set in the right place, you could have spectacular views throughout the day.
Work within budget

With many venues, hiring their space comes on the condition that you must use their services. With a marquee, you are able to arrange the decorations, drinks and other details to allow your budget to stay as small as you wish.
Caterer
Choosing what to have on your menu can be tricky, especially if you are only given a few options. With a marquee you can hire your own caterer to make you exactly what you want.
Finish time

With a marquee, you have much more flexibility when it comes to finishing time. This is great, especially when the party is still in full swing come night time.