Galaxy Note 7 is one of the best smartphones that Samsung has ever made. Positioned in the high-end design phablet segment. Stylish design like Galaxy S7 and S7 Edge. This device comes with 6GB RAM, 128GB Internal storage, Spen Stylus, stunning design and a spacious display.
Built And Design
With this new Note, Samsung has chosen to highlight the coherence and foremost in the design. That it is not really "surprising" because at first glance the phone looks to like a "Plus" version of its Galaxy S7 Edge, already very convincing. The smartphone features a screen 5.7 inch display with Quad HD resolution, features a metal frame and a glass back 2.5D, a perfectly symmetrical balance. The phone is extremely attractive and soft to the touch, impression of quality and strength. Smartphone measures 7.9mm thick, 153.5mm tall and 73.9mm wide. Which weights about 169 grams.
And display protected by the Gorilla Glass 5.  it will also be available in black and blue version, The Note 7 has turned to content consumption and productivity more than anything else. Comes with waterproof to IP68 standards which means 1.5m for 30 minutes in water.
Iris Scanner
The great novelty of this device remains the iris scanner, on the front of the phone and allows you to unlock your smartphone with a true single footprint than your iris. The manufacturer highlights the fact that this technology is essentially the most secure, and it is almost impossible to duplicate. Between five to 10 seconds longer to unlock with our eyes.
It also requires no interaction with the phone: just left at eye level. At least that is the theory, practice is proving somewhat random. In full sun, You will have  some difficulties to operate non-stop without worries. And in practice, post iris in dedicated benchmarks, iris scans are done at a minimum distance of 8 inches (20 cm)  from the user's eyes,  Samsung's Good Lock app, a replacement home screen. Still, for safety, it is indeed the art. And to practice, the Galaxy Note 7 offers a fingerprint reader in it's home button. It is therefore more significant.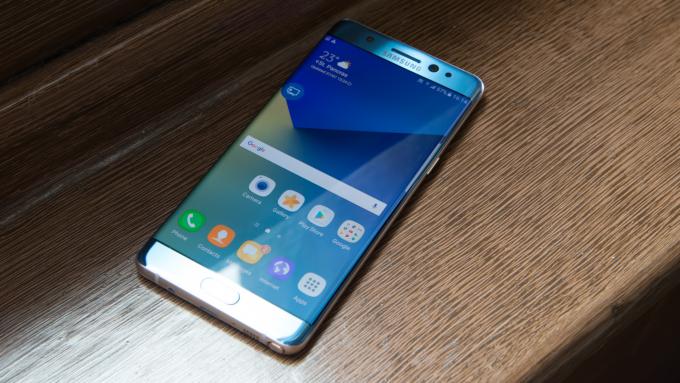 Software Makes All the Difference
It is made more interesting by the software enhancements, that the manufacturer has once again made to the version of Android. In use, Grace UX is much lighter  in Note 4 and it feels: the Exynos 8890 and 4GB of RAM between all the tasks we have been able to launch, despite the intense heat of the day that many smartphones have trouble.
Fluid. This is the word that characterizes perfectly the phone. There is no need to bother to enjoy the experience, made even more useful by implementing features unique to Samsung as its Knox security. This allows, for example to create a totally personal session. Including shortcuts to your favorite apps. Which runs on operating system, Android 6.0.1 with TouchWiz.
Performance
For US smartphone user Galaxy Note 7 offers a 2.15GHz Snapdragon 820, And for Europe Smartphone Users It will be equipped with Exynos 8890 CPU. More support to the internet browsing.
S Pen
Galaxy Note7 S Pen is engineered to be smooth and precise, which comes in an increasingly fine and precise version ,the opportunity to see it in the hands of professionals calligraphy and drawing.
These tools of "productivity" are not the only onesto the device, you also have the ability to easily create GIF from the video and share directly via the interface. Very easy to use, it could make the difference for those who addicted to social networks.
Battery and Other Features
Smartphone compatible with 4G LTE, Wi-Fi 802.11ac, Bluetooth v4.2, GPS/ A-GPS, NFC, MST, and USB Type-C. powered by a 3500mAh non-removable battery.