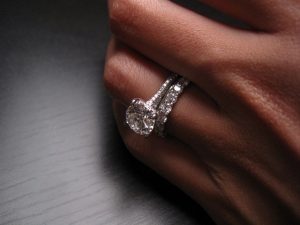 For countless guys, when to get down on one knee and propose to the woman of their life can be tough to determine.
Will she say yes? Will you get her the right ring to make her as happy as possible? Will you be rushing things? Lots of questions and not always all the answers you need at the time.
With that in mind; how best to go shopping for an engagement ring?
There are some factors that come into play, so take your time and do it right the first time around.
So, are you ready to spring for a ring?
Do Your Research in Shopping for the Right Ring
So that you can come up with the perfect engagement scenario for the woman of your life, keep a few tips in mind:
Is the timing right with finances and even marriage talk?
The last thing you want to do is pick the wrong time in your life to propose. This means knowing when the time is right to pop the question.
One factor that oftentimes comes into play for guys is their financial situation.
Would buying an engagement ring right now mean financial hardship moving forward? While there is the option to buy the ring via payment plans, many guys will pay outright for it.
Another factor up for thought, are you and your special woman ready to start talking marriage? Although an engagement ring does not mean an immediate wedding, it likely will occur.
Where do you turn for ring advice?
While you'd love to spend whatever money to make her happy, you might have financial limitations. As such, what kind of ring do you get?
Many guys will opt for shopping at traditional jewelry stores near where they live. They might even buy the ring at a jeweler's that family or friends have used in the past.
Also, don't discount using the Internet to shop for that special ring.
With many jewelers online, you can find out prices, diamond color gradings, and much more.
Among the gradings available to you:
D – This is a colorless and infrequent diamond
E-F – These diamonds only provide any semblance of color to an experienced gemologist
G-H – Colorless diamonds for the most part, these rings offer the best deal for buyers
I-J – Very minimal color is viewable
K-Z – These diamonds include anything from yellow to brown
Remember, you have to end up making the final decision.
Experts will generally tell you that grade I or above make for good color selections.
Rings in the F-G-H range tend to be the most popular, while G-H will provide you with the best deal for your money.
Should she shop with you?Last but not least, should your significant other go ring shopping with you?
For many guys, the notion of surprising her is something they don't want to miss out on. That said what if the surprise doesn't go as well as planned?
It isn't unusual these days for couples to shop together for a ring. Doing so allows her to select pretty much whatever she wants. Now, if that doesn't make her happy, what will?
Some couples disagree over ring selections, but relationships are all about compromise.
Also, don't feel like there is a ruined surprise factor if she picks it out. You can still end up giving it to her on your own terms and timing.
If the time has come to spring for a ring, are you ready to embark on this next big chapter in your life?