Competition among the 7 inches tablets is still fierce this year. The new Google Nexus 7 is still getting popularity among customers by upgrading its hardware like camera, screen and processor. And Amazon's new launched Kindle Fire HDX also has Full HD screen and distinct characteristics. Mostly importantly, both tablets sell for around $229. So, which one is the best 7-inch Android tablets? We will find out the answers for you with detailed comparison.
Outlook Design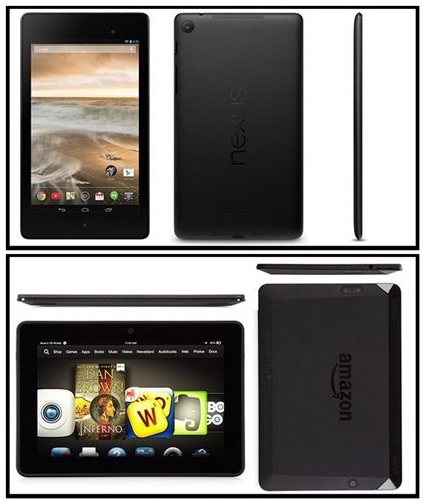 Obviously, the new Nexus 7 looks thinner and slender with dimension of 114 x 200 x 8.65 mm while the kindle Fire HDX is 128 x 186 x 9 mm. It feels good when holding. Kindle Fire HDX has adopted the design of edges and corners at the back which looks more robust and offers great touch feelings. But the power button is on the back of the fuselage which seems not so humanized
Winner: Nexus 7. Nexus 7 is thinner and its design of power switch is more reasonable.
Display
Both Nexus 7 and Kindle Fire HDX provide screens with 1920 * 1080 pixel full HD resolution. And own to conrning gorilla glass panel, the reliability of Nexus 7 is higher and its brightness is much better. However, as for the display effect, the Kindle Fire HDX seems to be more vivid, especially the screen color. And Nexus 7 has the problem of slant blue.
Winner: Kindle Fire HDX. Its comprehensive image quality is more remarkable.
Speaker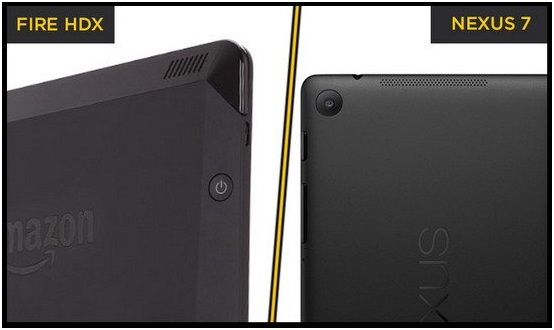 No matter it is Nexus 7 or the Kindle Fire HDX, both offer stereo speakers. But Kindle Fire HDX is equipped with Dolby sound system. From the point of actual effect of broadcast, the Kindle Fire HDX not only has a larger volume but also sounds clearer.
Winner: Kindle Fire HDX. It offers clearer and full-of-details sound quality.
User Interface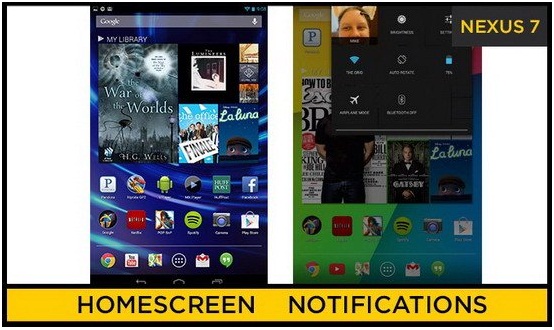 When it comes to user interface, Nexus 7 features on Google native Android 4.2 system. Those who have used Android system can handle the tablet with ease since the system is easy to use. And Kind Fire HDX runs the customized Fire OS 3.0 system based on Android system. It is a little different from Android and it is built in a lot of Amazon's service.
Winner: Nexus 7. The original system is easy to use and can be upgraded to the latest Android system conveniently and quickly.
Hardware Performance
The Nexus 7 is equipped with 1.5 GHz Qualcomm Snapdragon S4 Pro and built in 2GB of RAM and Andreno 320 graphics. Very strong performance. However, Kindle Fire HDX provides the top configuration of this year, including 2.2 GHz Qualcomm Snapdragon 800 Quad core Pro with 2GB RAM and Adreno 320. For processor or 3D performance, the Kindle Fire HDX is far ahead. In actual use, the Kindle Fire HDX offers faster speed on opening apps, transferring 1080p HD video files than Nexus 7 does.
Winner: Kindle Fire HDX. Obviously, Qualcomm Snapdragon 800 processor is more powerful.
Video Playback
Both Nexus 7 and Kindle Fire HDX have video incompatibility issues. Nexus 7 video supported formats are H.263, H.264 AVC, MPEG-4, and VP8 while Kindle Fire HDX supports H.264, MP4, 3GP, VP8. So, if you want to play Flash SWF files on both tablets, there could be a big trouble. To play SWF files on Kindle Fire HDX or Nexus 7, you may need to convert SWF to Kindle Fire or to Nexus supported formats.
Tip: iOrgSoft Mac SWF Conversion Software can convert SWF to Nexus 7 Mac or to Kindle Fire Mac.
In this part, they break even. Well, we think that except stronger hardware configuration, the multimedia services and Limited access functions of Kindle Fire HDX is more suitable to parents and tablets' green hand. Nexus 7 is built in comprehensive Google services, which is more suitable for users who have higher requirements on internet apps.