Your dogs are an integral part of your family. You want to make sure to feed, exercise, and love them so that they have the best quality of life possible. An important part of that is play. Dogs—no matter how big or small, young or old—need to play. This keeps their body and mind healthy. And when you play together, the interaction helps to cement your bond with them.
At the same time, we all live busy lives and we can't always make it to the dog park or the dog beach, so read on to discover some creative and fun ideas for playing with your dog at home.
Outdoor Play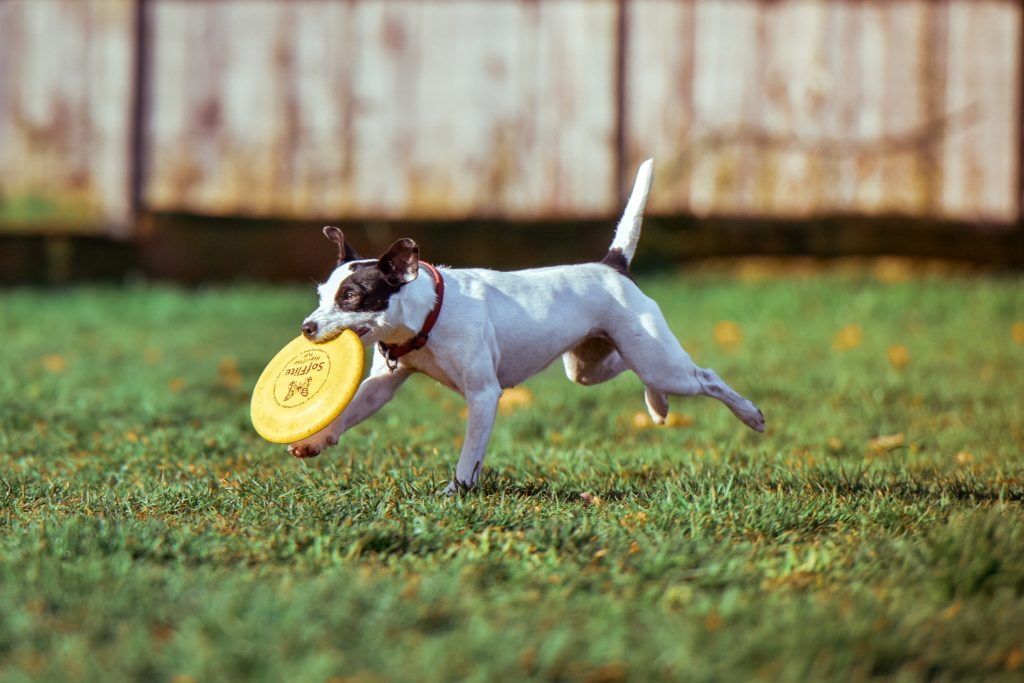 If you have a backyard, let your dog run free. Throw a ball or a stick or run and have it chase you around! Throw a Frisbee into the mix for good measure as well. Don't forget: outdoor play is good for you, too!
If your dog is more of a sniffer than a fetcher, then great! Studies show that sniffing is a wonderful brain activity for a dog, so don't rush it. Tip: Keep an eye on it to make sure that it doesn't roll in whatever smells so interesting.
Indoor Play
If you live in a cold place—and your dog isn't an Alaskan Malamute—you and your pup might be better off playing indoors. If you're in a house and won't be disturbing the neighbors, by all means, play fetch with your doggie's favorite toy. You know how it goes: squeak, throw, repeat for hours—or as long as your arm holds out.
Remember to make play fun for you, too. If you're bored with fetch, but your puppy still loves it, think about investing in a tennis ball launcher. Again, consider your neighbors, if you're in an apartment.
Some Dogs Are Not Natural Fetchers
If you have a dog who simply stares at you when you squeak a toy or toss a tennis ball, then you need to re-think play. Is your dog a scent hound who can locate a hidden piece of food? Then put a piece of ham—or chicken or whatever treat your dog enjoys—under an upside-down plastic cup. Then, put down two other plastic cups with nothing underneath them. If your doggie locates the treat, praise it! The praise and the treat will be all the incentive it needs to get better at the game.
Toys, Toys, Toys
Dogs are as individual as children in terms of what playthings they enjoy. Some dogs love soft squeaky toys, while other dogs are chewers—rawhide, rope, sticks, bones. It's always a good idea to have chew toys available so that your pup doesn't start gnawing on table legs or electrical cords. WholeWoof sells a Bihlerflex bone that is sturdy, but gentle on your dog's teeth.
Play is always going to be fun for your dog—why not choose toys that you find amusing? Try an online store that has a wide selection of dog toys—from cute and squeaky to strong and chewy and even sturdy tugging toys. And you get to pick out the ones you find most adorable, whether it's a doll or a squeaky slice of pizza.
Games for Older Dogs
If your dog is older and sleeps a lot, it might not be interested in the tug-of-war game it loved when it was younger. In addition, like humans, as dogs become less active, they need less food, so you might consider a puzzle food dish that slows down your dog's eating. This is also a good brain exercise because it has to work for each piece of kibble.
If your dog is still food-driven, create a game based on treats. Find healthy, whole-food treats  that your dog can't resist, then put one on the floor a couple feet from it. After it devours the food, put one on the other side of the room. Put the next one in a different room. Play this game for as long as you like. It will get your doggie up and moving.
New Tricks
Speaking of older dogs, you really can teach them new tricks. Again, with food rewards and praise, you can finally teach your dog to sit or lie down, especially if it is already inclined to take those positions. The key is going to be patience and repetition.
Whatever game you choose, your dog is sure to love it, especially since most dogs love any type of play that involves their owners!