If you're sitting at your desk all day, you may think it's impossible to get some exercise. And not getting enough exercise, as we all know, is not good for the health. But what can you do if you're stuck at work and have no way to be more physically active? Don't despair just yet – there is an answer. Here are the top three exercises you can do at your desk that nobody will even notice but can benefit you in many ways.

Strengthening your thighs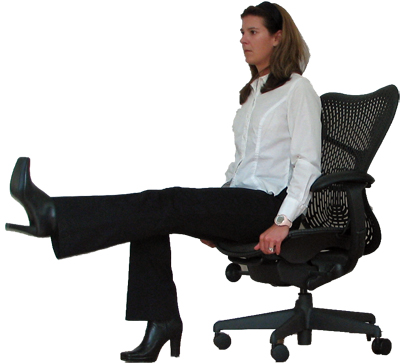 If your hamstrings are always cramped, you can become a candidate for pain in the lower back. To avoid this, strengthen your thighs with some easy desk exercises. Sit straight up on your chair and straighten your leg. Make sure you can feel the pressure on the muscles of your thighs. Hold the position for about ten seconds then release. Do this 12 to 15 times and alternate one leg with the other.
'Running' in your chair
We all know that sitting down for long periods of time can result in pain or soreness in the legs and calves. Fortunately, you can prevent this by doing some simple 'running' in your chair. Whilst sitting down, lift both your feet in a running motion. You can even pump or move your arms simultaneously as well. Do this for approximately 30 to 40 seconds, rest for about 15 seconds, then repeat. By 'running' in your chair, you can increase your heart rate and burn some of that heavy lunch.

Raising your heels

One condition that often plagues those who sit down all day is tight and achy heels. What you can do for this, though, is some heel exercises. Sit up straight and try to lift both your heels from the floor while resting your toes on the floor. Make sure to do this slowly so you don't strain yourself, and repeat the process for about 15 to 20 times with both your legs and about 10 times with the right leg and 10 times with the left.
 If you really want to keep fit at the office, there are many ways to do so. You can be more conscious of your physical activities, such as walking, standing, taking the stairs instead of the lift, and so on. As long as you have the consciousness and the discipline, it's not that difficult to be more physically active at work. And, if you have cravings for unhealthy snacks, learn to distract yourself. Play some games online like online bingo (which also allows you to win money, so it's double the pleasure), chat with a friend on the phone, or engage a colleague in small talk. Do whatever it takes to keep fit and healthy, and you'll have a lot of success.