What to look for in a hotel when making your choice to book a hotel in Bangkok? It depends largely on your travel dates, who you're traveling with and your budget. But for the average traveler, here's a guideline to help you choose a suitable hotel to stay at during your trip to Bangkok for a problem free trip. While there are local options as well as bed and breakfast type hotels and long term service apartments available, you'll quickly find that they are quite a distance from the major attractions and have you feeling tired from traveling the long distance rather than from all the sightseeing fun.
Location-wise, you'll want to focus on the Siam, Silom and Ratchaprasong area. This is where you'll find major hotel brands lined up for you to choose from. If you're on a budget, opt for the three and four stars hotels in the area. The benefits of paying a little more for extra comfort and ideal location far exceeds the cost of having to be stuck in traffic if you stay at locations that are not easily accessed by the BTS skytrain and MRT subway.
Now besides finding a hotel at the ideal locations and the cost, it's also important to take into account if the hotel offers local tours, shuttle service to and from the airport as well as what sort of amenities are available. After closing in on the location for a hotel in Siam, Silom and Ratchaprasong area, let's take a look at some hand-picked hotels.
If it's the Silom area you're pinning on, then Pullman Bangkok Hotel G is definitely one option to consider; given the average room rates, convenient location and amenities offered. Do take note that the hotel is not exactly a family hotel and comes off as more of a lifestyle F&B city hotel.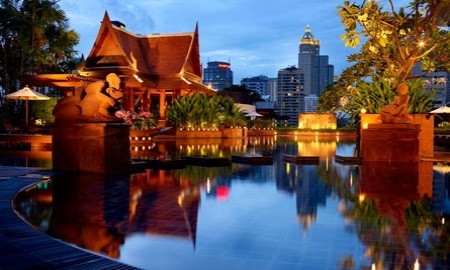 However, if you prefer to stay around Siam area, which is also where the luxurious Siam Paragon shopping mall is located, then opt for Mercure Bangkok Siam. The hotel is a short walking distance from the BTS station. Besides Siam Paragon, the hotel is just across from Lumpini Park, MBK Shopping Mall and the Jim Thomson Museum.
As for the Ratchaprasong area which is basically Siam Square, there are two options to consider which are: Novotel Bangkok On Siam Square and VIE Hotel Bangkok, a 5 and 4 star hotels respectively. If you're on a budget, ibis Bangkok Siam is also worth considering. The fact that it is an Accor hotel means although it's a 3 stars hotel at room rates of 3 stars hotel, the service continues to be of high standards.
Besides location, cost and amenities, service is also very important. Choosing an international group of hotel ensures you get serviced for your money's worth. This doesn't mean that local hotels are a no-no. Most of the time, local and stand-alone hotels in Bangkok also offers great service. It's more about the ability to converse with you in your own local language such as Japanese or French and to meet your travel needs such as hotel limousine; local tour bookings on behalf that helps make the trip even more comfortable.