Are you considering visiting a massage therapist or maybe having a mobile massage at home. Massage can be used to help decrease anxiety and treat depression, it has been proven to reduce scar tissue, swelling and stretch marks, improve circulation, relieve achy muscles and pains. It can even be prescribed by doctors to treat burns and increase post surgery recovery. In this post we will look at the different types of massage and the benefits they can offer.
Acupressure
This type of massage is similar to acupuncture, it works with the clients Qi or chi as acupuncture does but it doesn't involve needles. Practitioners of Chinese medicine believe Qi is what makes us who we are, it is our life force. Qi is never created or destroyed, it flows through the body. Acupressure can be used to remove energy obstructions and allow Qi to flow more effectively. This type of massage can be used to help weight loss, stop smoking, relieve muscles, improve posture, relieve stress, improve sleep and much more. Even migraines and colds can be treated with acupressure.
Swedish Massage
Swedish massage is one of the most common types of massage therapy, it is the basis of most therapeutic massage. The therapy works to remove knots and tension. Swedish massage can be used to reduce cellulite, improve muscle tone, help posture, ease muscle soreness, increase circulation, improve sleep, reduce swelling, boost the immune system and much more.
Thai Foot Massage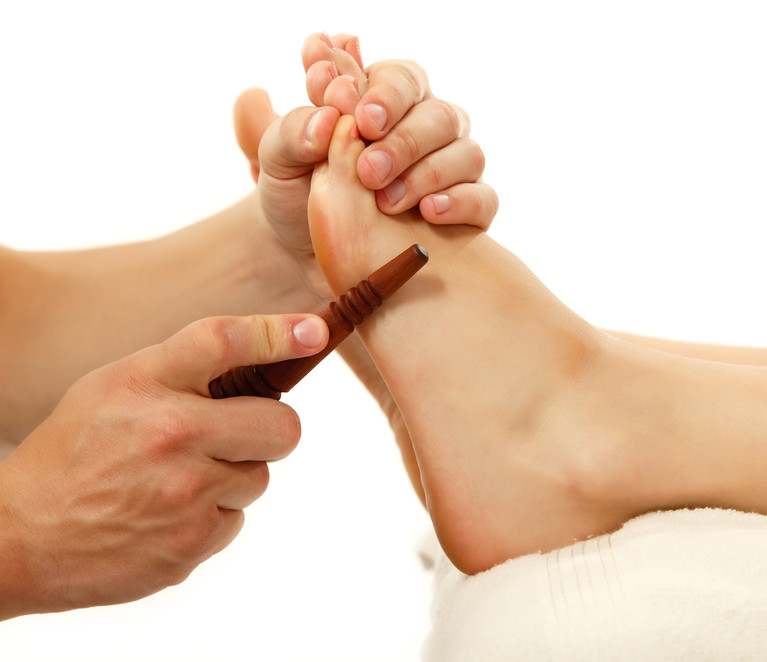 It sounds strange but by massaging the feet Thai foot massage can have a positive effect on the rest of the body. Thai foot massage uses wooden sticks to stimulate reflex trigger points. Thai foot massage can be used to reduce stress, help promote weight loss, stop smoking, improve the immune system and increase circulation. It can be done without removing any clothes (other than shoes and socks) so maybe good for the workplace if you can find a mobile massage therapist.
Indian Head Massage
This type of massage uses a blend of oils, the oils used in Indian head massage nourish and stimulate the senses. Indian Head Massage is another type of massage that can be done whilst fully clothed, it helps relieve colds, improve sleep, reduce stress, promote hair growth, improve flexibility, relieve sinusitis and depression.
Hot Stone Massage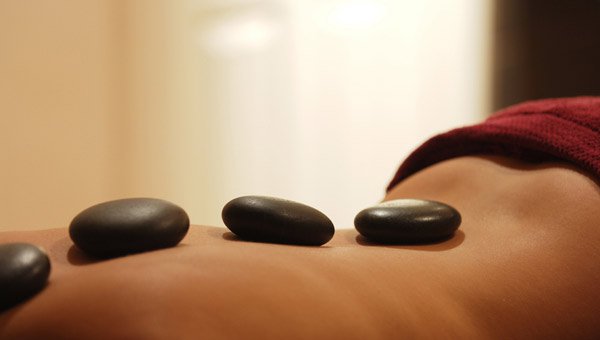 Known by many different names such as lava stone massage or warm stone massage. To perform this treatment therapist uses warm stones of various shapes and sizes, big ones on the bigger muscle groups and smaller ones on the smaller muscle groups. The hot stones are believed to help improve the bodies energy and blood flow. This type of massage is similar to Swedish massage and can offer similar benefits, hot stone massage can be used to treat fibromyalgia, arthritis and carpal tunnel syndrome, it reduces stress and improves sleep. Hot stone massage is not suitable for everyone and should be avoided by anyone on blood thinning medication, sufferers of diabetes or heart disease.
So these are some of the most popular types of massage and the benefits they offer, nearly all massage therapies offer similar benefits such as increased relaxation, improved circulation, etc. which one is right for you may depend on your location and whether you want to remove your clothes.
This post was supplied by Mark Stubbles. Mark writes for A Healing Touch, mobile massage therapy.