If you want to have good cooked food, which can be obtained very quickly then you must definitely look for Multicooker for your kitchen. Multi cooker can perform under any situation and will never let you down. Even if you want to cook at slower pace, you can use multi cooker. There are many different options available whether you want to cook under pressure or cook at slower rate.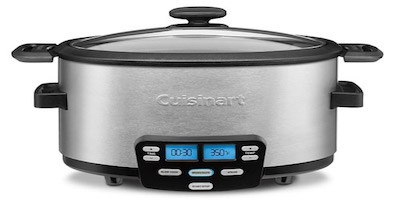 Different people have different requirement as far as cooking their food is concerned. If you have lots of time then you can prefer to cook your food at normal pace and have it during night. However, if you want to eat food as per the exact time then you need to take the option for pressure-cooking. Multi cooker can serve both options with equal ease.
Now, let us see what are the requirements for a safe and best multi cooker are.
Safe Lids
While buying your cooker, you must ensure that the lid has more than one locking system, so that it cannot accidentally open under pressure. If the lid has multi locking system then you can use it in a safe manner.
In addition to that, you must also look for the following while buying any multi cooker for your kitchen.
Capacity
While buying a multi cooker, you must make sure that you can at least prepare food for two or more persons. You will need bigger capacity, if you want to prepare food for more than 4 persons.
Steam Release Valve
When you use various settings of pressure cooker, you must turn the steam release valve to manual mode, so that after cooking is done, you can release all the pressure.
Pressure Settings
Your pressure cooker must have many different settings of pressure, so that you can cook many different dishes at various different pressure. If the pressure is higher, then the cooking time will be lesser. However, if you take longer time to cook then the flavour will be better.
Cooking Times
Most pressure cookers have preset cooking time for rice, curry etc.
Timer
Cooker must have a timer, which will alert you when cooking is done.
Automatic Setting
Automatic setting enables to control the temperature inside the pressure cooker. The temperature will automatically rise, if the cooking is not proper and lower's it down when cooking is properly done.
Steaming and Warming Feature
Some of the versatile model of pressure cooker has the facility of both steaming and warming.
Maximum Fill Line Indicators
Your cooker must have suitable indicator, which will let you know how much to fill it. You should not over fill your cooker for safe operation.
Cooker Exterior
Your cooker exterior must be smooth surface, so that no food item may be trapped on its surface.
Cleaning
You should be able to open every part easily, so that it is easy and convenient for you to clean it. If the exterior of your cooker is made of stainless steel then you will need more time to clean it properly.