Home renovation and a comfortable bathroom can't exist or happen in a single house at the same time. This was before.
Thankfully, many portable bathrooms and toilets nowadays are made to look and feel like our own homey bathrooms. Since a lot of the restroom conveniences we used to experience only at home are being incorporated in mobile bathroom designs and structures, homeowners can have house renovations going on and still enjoy the comforts of a nice and clean restroom.
To optimally enjoy the benefits state-of-the-art portable bathrooms offer while awaiting the completion of your house makeover, make sure to buy or rent a mobile restroom that suits your needs. Here are important factors to consider in picking the right portable bathroom for you and your whole family. To make this easier for you to remember, call this short guide the "4 P's" in choosing a portable bathroom.
People
Are you living alone, or with a large or small family? Are there kids, elderly folks, and disabled people living in the house with you?
Always put first your and your housemates' safety and primary needs in the list of things to consider when you go looking for a mobile restroom to use, while your house is undergoing reconstruction. Make sure important facilities, specifically those that have a lot to do with hygiene and safety, are included. For instance, if you're living with kids or elderly people, ensure there are stable handlebars, proper toiletry racks, enough space, and effective drainage and sanitation mechanisms.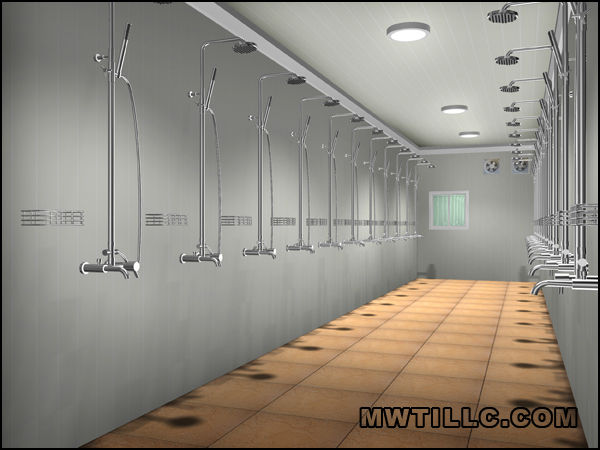 Place
You need not worry if the ground where your house stands is flat and concrete. However if you're living somewhere close to nature where the land didn't undergo much mechanical manipulation, or the terrain is a bit steep and rocky, never fail to inform and talk  to your trusted mobile bathroom dealer. They may be able to present you with possible options or structural additions to your portable bathroom for better convenience. By informing them in advance, they'll also know what to prepare and how to go about the delivery and set up.
Proportions
Consider the space you have left for a portable bathroom. If you have a vast, flat backyard, then no problem. But if your outdoor space is limited and construction equipment need to occupy a place outside, prefer a smaller but not too constricting mobile restroom that can still address your basic toilet needs and conveniences.
Period of renovation
How long you'll be using a portable bathroom apparently depends on the duration of renovation. If your house needs extensive repairs and may take over a month or two to be fully refurnished, you will need a really durable and multi-functional mobile restroom.
As mentioned earlier, make sure it has enough amenities, with safety and hygiene facilities as the two most important inclusions to ensure. Even outside your home, a clean and relaxing portable bathroom can give you the alone time you need, so you can take a moment to get away from all the hassles of the outside world.
Featured images:
 

License: Image author owned
By Debra Wright
Debra Wright doesn't say much, but when she does, she prefers to write it down. Among the things she's written are helpful how-to's and interesting insights on home improvement. If you'd like to learn more about home decor, follow Debra on twitter @debrawrites…