Kitchen remodeling is a job that must be done, whether you just want to update your kitchen for your own personal use or to improve your home's resale value. Surprisingly, a big chunk of the work can be done by yourself, without having to hire experts. Even if you are not much of a do-it-yourselfer, you are still able to come up with a project and remodeling plan. You may also prepare your kitchen before hiring professionals to save some finance.
So, if you're on a budget, but would like to remodel your kitchen, check out some of the best remodeling ideas that will not hurt your wallet. Feel free to share your own ideas in comments :)!
1. 'New' Cabinets
Cabinets are often the most expensive items in a redesign (if they are completely replaced). But why should you replace things that function perfectly just for the sake of a new look? Keeping old cabinets will help you save lots of money! Just replace old hardware, paint or stain the cabinets – and you'll get a totally new look! There are hundreds of step-by-step video tutorials on Youtube on how to reface kitchen furniture safely, fast and with minimum investment. Helpful advice: make sure to degrease the surface well before applying paint.
2. 'New' Flooring
The same thing can be done with your kitchen flooring. For instance, you can age it using sandpaper in order to give it a somewhat rustic touch. If you're dead set on replacing your old flooring, you can save a significant amount of money by laying tile or wood yourself. By doing so you'll save the cost of labor. However, if you're not sure about your skills, I highly recommend hiring professionals – laying tile flooring isn't as easy as refacing old cabinets. There are many companies that offer high-quality services at reasonable prices – just check out this website for instance – HoustonFlooringCenter.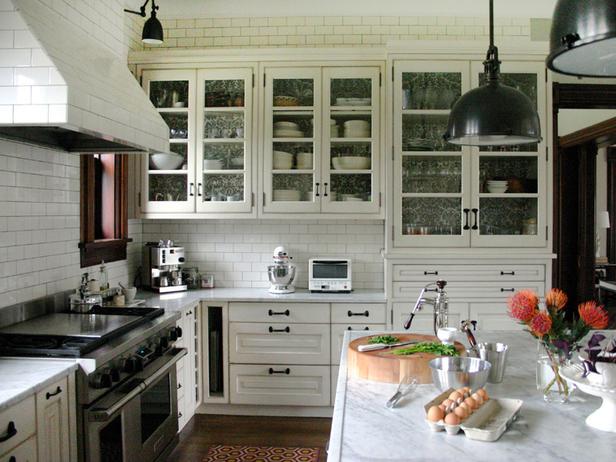 3. Countertops and Backsplash
Another huge expense are countertops. While expensive granite countertops are all the rage these days, there are many cost-efficient alternative materials, specifically laminate or concrete. Both variants are relatively inexpensive and rather durable.
The backsplash is a great place to unleash your creativity and show some personality. Create a cool mosaic to make it funky and cozy – a wide variety of materials can be used: plastic, ceramic or glass tiles, stainless steel, metal plates with imprinted custom designs etc. For just a few bucks your new kitchen can get a brand new look – all because of a funky backsplash.
4. Sink
To complete the look, install a new sink and fixtures. The most popular, timeless option is stainless steel. It requires minimal upkeep and is rather affordable. Just pick the right size and modern model.
Use these cost-efficient ideas to give your kitchen a contemporary feel or a rustic, cozy look, depending on the material you use. Once you have updated the kitchen, doing the dishes and cooking will be definitely an enjoyable experience.
Featured images:
 

Image credit smartphotostock.com

 

License: Creative Commons

 

image source
Robert Simons loves researching and discussing new trends in technology and interior design. He runs http://yourtechlib.com/ to share his personal experience with others.