Large uninterrupted spaces in offices and other public buildings look very attractive but have a number of downsides such as being acoustically challenging and also difficulty in getting the heating balance right. Using glass partitions can solve these problems but they leave the appearance of light and space at the same time.
Peace and Quiet
Every space has an area where people need to speak privately, whether it is the boss's office, reception or the board room. With glass partitions you can choose to separate these areas acoustically whilst keeping the aesthetic of the open plan. By using double glazed glass partitions, you can make a room virtually soundproof and of course this has the double advantage of preventing people listening in as well as keeping the random chat of passersby out of the conversations others may be having on the phone. It sounds very unprofessional for someone to be speaking to a client and having bleed-through of vacuous gossip from across the hallway.
Safety first
Fraser Projects, one of the country's foremost designers and fitters of glass partitions, are very safety conscious and can sandblast or decal partitions if they are likely to present a hazard. If they are to be fitted in public areas where different people are likely to be near them every day or if they are fitted where children may be running around, a sanded finish can be applied either all over, as a band or a pattern, just to stop them being totally invisible and therefore rather dangerous. The glass is toughened, but walking into it even at the average walking rate of 3 mph can still give a person a rather nasty bump.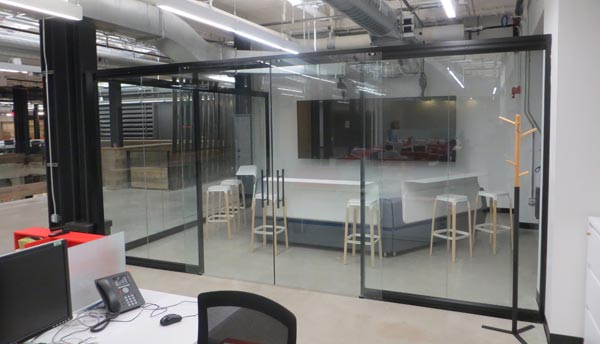 Not just for Offices
Glass partitions are used widely in offices and schools but they are being used more often in houses as well these days. With glass technology improving and recent relaxations in planning regulations, more people are adding conservatories onto their houses as dining rooms and play areas. To stop the rest of the house getting too hot or too cold, a glass partition between the conservatory and the house keeps the look of spaciousness that people are looking for whilst giving an acoustic and heat barrier.
Designing with Glass
Glass partitions can be added after a build and often they are an integral part of any refurbishment but they can also be part of the original design. This gives the architect the freedom to play with light and space without having to worry too much about the acoustics, allowing for privacy or creating light wells to make sure that corridors and internal rooms are not too gloomy. Glass partitions used to create rooms which have no actual window means that a large open space can be used in its entirety, rather than having to stick with rooms around the edge with a sometimes rather redundant public space in the middle by necessity. Glass partitions can set an architect free and there are some amazing projects which have been made possible by glass.
Rob Steen is a Freelance Copywriter specialising in property related articles. He often writes for Fraser Projects.