By hiring a commercial office cleaning service it ensures that an office maintains a professional look. This worry-free service is crucial to anyone looking to build client relationship and helps improve employee morale and boosts their pride in the workplace. This gives the work environment a clean, polished work that is easier to work in. Proper cleaning gives visitors a great first impression.
What an Office Cleaning Service Includes
When one hires an office cleaning service they can expect several services rolled into one. Some of the most typical cleaning services include: general cleaning, vacuuming, mopping, dusting as well as sanitizing and disinfecting all surfaces, offices and common areas of an office. Commercial cleaners also collect and remove garbage and disinfect restrooms and kitchen.
When performing these cleaning services, they use industrial cleaning supplies that use non-toxic, low allergenic and biodegradable cleaning ingredients. HEPA micro-filter vacuums pull the most dirt and dust from carpets, which is especially great for employees with allergies. These types of products are cost effective, which keeps the overall cost of cleaning down for businesses.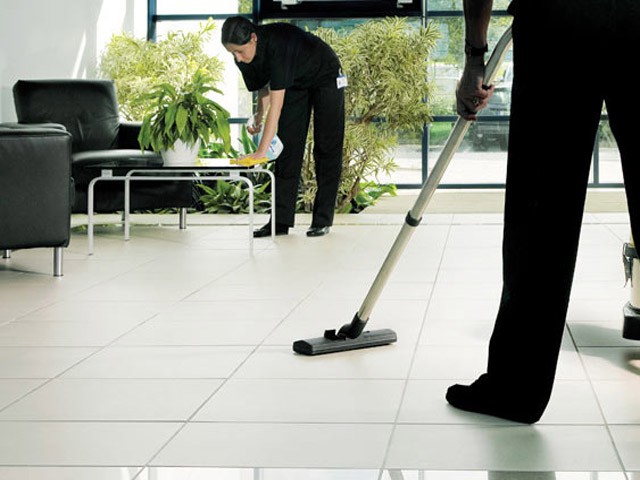 Cleaning services usually offer both day and night cleaning services. A NJ commercial cleaning service offers daily, weekly, monthly or quarterly services that work with every type of budget.
Other Types of Cleaning Services
A commercial cleaning service can also offer a carpet and furnishing cleaning. This helps to prolong the life of these things while protecting them from mold, pollen, allergens, stains or soil. Accumulated soil and dirt cause reduced carpet life and help harmful bacteria to grow.
A hard floor care service provides proper cleaning and maintenance of different hard floor surfaces. Their service typically includes microfiber dusting and mopping. Other possible services include waxing and refinishing, tile or grout restoration, concrete floor scrub and sealing or polishing.
The appearance of a building can contribute to a business' reputation. Ultimately dirty windows are seen by anyone approaching a structure. A window cleaning service cleans the interior and exterior as well as frames and sills. Blinds and curtains are also included (if applicable).
Benefits of Hiring a Cleaning Service
First of all, it will save a company both time and money. Another employee doesn't have to be hired to clean the area. Also, typically if a business signs a year-long contract with a cleaning service, they receive a discount too. It will give everyone in the office peace of mind that no one has to break away from their work responsibilities to clean. This allows your employees to be more productive at the job they were hired for and not doing menial janitorial work.
Cleaning a workspace each week is healthy for everyone working there. Employees will have fewer problems with allergies as a result of dust and other allergens that may get into the carpet.
Most importantly it will impress clients. A good first impression is a powerful thing in the business world. By creating an orderly, clean space, visitors will feel welcome in the space and will want to come back.
Rose's Professional Cleaning Service, located in East Orange, NJ and is one of the top commercial cleaning services in New Jersey. They pride themselves on being very detail oriented and focused on the satisfaction of their customers. They have been in business for 10+ years and also provide residential cleaning services and professional organizing services.