The right piece of jewelry can really make a difference to your outfit. It can turn a simple combination into a highly expensive-looking one. However, you have to think about the ways to properly match different pieces of jewellery, so that your outfit does not look too flashy. Another important thing is to pick the appropriate shapes, colours and sizes of necklaces, rings, bracelets or earrings.
Be Bold
Bold jewelry is the perfect way to add a pop of color or texture to your simple outfit. Choose a pair of statement earrings to wear with an outfit that includes a high neckline, or if it has an interesting and attractive pattern. A floral dress with a high neckline would look fabulous with big orange sparkly earrings. Furthermore, a very interesting piece of jewelry is becoming more popular by the day, and that is an ear jacket. Match it with a high-neck black dress and pull back your hair or put it in a bun and you will look stunning.
Multi-colored collar necklace would look great on a red, yellow, green or white romper. Any other color of romper can be considered, just make sure it does not involve any patterns or prints because that would be too much. A chunky or light-weight pendant necklace is the best embellishment for a simple T-shirt, a high-neck dress or a top. If you prefer multi-strand beaded necklace match it with button-up shirt for the ultimate outfit.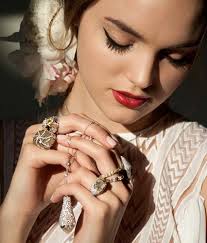 Multi layered bracelets would go perfectly with a smaller pair of earrings and a simple necklace. You do not have to buy many bracelets all at once if you do not already own them. Go shopping every once in a while and when you buy three or four of them, start incorporating them into your outfit. They will look very classy matched with a big watch as well.
Delicate Jewelry
Jewelry is always a great way to make a statement. However, if your outfit has bright print or interesting embellishment, the statement jewelry will be too much of a statement. Therefore, this is the opportunity for you to wear something a little bit more delicate. A stud pair of earrings is the best option if you choose to wear a sheer, geometric top. Dainty, sparkly earrings will perfectly accent a high-neck dress.
A simple silver or gold necklace will perfectly embellish a simple outfit. For a little more edge, wear layered necklaces. However, if you are pairing necklace with different necklines, you must pay attention to the length of the necklace. If you like to wear leopard prints, a blazer with that print will look perfect if matched with two pendants, especially if a white t-shirt is under a blazer.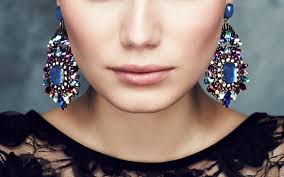 Piercing was always the choice of brave and extravagant women. Various parts of the body are pierced every day, from eyebrows, nose, belly button, ears, an upper lip, a chin to a tongue. The pieces of jewelry would always be interesting and unique for everyone. Especially when it comes to ear piercing, the ladies like to experiment and make the entire ear shell, from the bottom to the top, filled with earrings. Some like it, others not so much, but it definitely stands out and attracts attention. If you prefer this kind of outfit embellishment, it can be matched to anything. The best part is that you do not have to think about colors and patterns. Body piercing goes with everything.
The appropriate piece of jewelry will make your outfit stand out and look fabulous. However, always bear in mind the occasion for which you are going to wear a certain necklace or a bracelet. You do not want to look overdressed at a simple hang out with your friends, but also you should not look underdressed for a dinner date, or a wedding.