Every person involved in marketing has heard about "marketing automation". There are many misconceptions regarding this notion, and only a few people can tell you the exact definition of these words. We all understand on an intuitive level what it supposed to mean, however we need to know exactly what it is and how can we use this to improve and optimize everyday marketing activity.
Systems that are created to improve and optimize your relationship with customers are called CRM (which stands for Customer Relationship Management). There are several systems designed for sales and marketing, one of the best CRM is the bpm'online system. Let's find out what processes they are trying to cover:
Sales automation
Marketing automation
Account management
Document preparation
CRM in Marketing
Marketing itself is a very complicated notion and not many people really understand what marketing specialists do.. Marketing is a science of communicating products' values to a customer. Marketing techniques allow you to build a strong relationship with your target audience and increase the overall value of the company. Every day marketing specialists waste a lot of time on routine processes instead of doing something more helpful. This slows downs the overall marketing department speed and respectfully the overall company growth. This is where marketing automation comes in handy. But how does it work and how can we use modern technology to improve our results?
The first question here is what marketing automation tools can help us in everyday marketing activity? The answer is marketing automation software. This is a program, which is specifically designed for marketing departments to suit their personal requirements. Today there are many marketing automation platforms that claim to solve all your problems, however not much of them can really be useful. You need to be sure that the solution you choose will really increase the speed of your activity and optimize your workflow.
First, let's answer a question what should a perfect marketing automation tool do:
Marketing campaigns analysis
Marketing campaigns management
Data storage
Customer management
Data analysis
There are a few marketing automation solutions, which can meet those requirements. We need the best marketing automation software, which is bpm'online. This marketing automation program has all the functions you need to increase you productivity. However, let's take a closer look at its functions and find out how they can be helpful.
Marketing Automation Solutions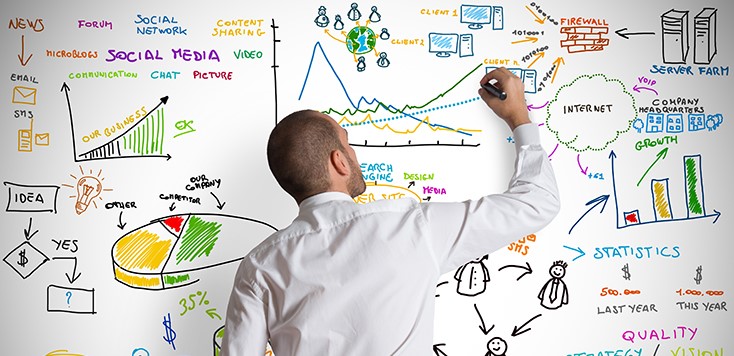 A good marketing automation system should be able to help generating new leads and managing the existing leads. In addition, you need to be able to analyze the effectiveness of your marketing campaign and see if efforts are paying off. All of this and even more you can find in bpm'online CRM.
You can have all of your communicational channels gathered in one place, which is extremely convenient. All incoming emails and calls can be gathered in one single interface. This gives an opportunity to manage simultaneously a huge amount of communication channels. You can send bulk emails to all your customers at once or segment your emails marketing campaigns based on your specific audience. Besides that, you can have a full statistics of your customers' response to your emails. You will be able to see how much people actually open your email and how many of them interact with the content. This will give a full overview of the effectiveness of your activity.
Another great feature that can help in everyday marketing activity is a 360 degree customer view. You can a have a complete profile of each of your customers. These profiles can include all the customer history, which includes buying and non-buying activities. Also you can link all of your customers' social media profiles. This can give you full information about your clients. This way even new employees can deal with your old customers and close deals. You can always qualify a lead depending on the activities and response to your marketing campaign. You can segment your customers to form specific target groups.
Thanks to bpm'online you will never miss a deadline anymore. It is hard to remember all the important events. Now this system can automatically remind you. You can ever synchronize it with your Google calendar.
The analysis of marketing campaign usually takes a lot of time, because you need to gather the data and put it together and use complex calculations. Each of your moves can be analyzed now in no time. Starting from lead qualification to closing the deal.  With the built-in analysis system you can now always see the level of response to your actions. You can have the statistical data in front of you any time and won't have to collect this manually, the system will do it in seconds. You can even monitor your client's activity during the campaign itself.
Another huge part of a marketing campaign is planning. Planning takes a lot of time especially when setting up intermediate goals and how all these activities are going to interact. Bpm'online has a strong built-in visualization system that can help to make things crystal clear. Your entire plan will be now in front of you, and all your actions will be perfectly timed. The system will show you how close you are to the goal.
And of course you can totally customize the interface to make it more comfortable for you. The easy-to-use and friendly interface are of a highly value for customers. You can customize it using your brand look and feel, and put your corporate logo.
With this system you can have a complete customer journey from qualifying a lead as your potential customer to closing a deal or finishing a marketing campaign and analyzing the effectiveness of your marketing actions.