Sales management software is a type of software that will, undoubtedly, make a dramatic difference in how effective your company's business as well as revenue direction, sales leads, and business contacts are being managed. Every enterprise would love to retain more customers and enhance the quality of its business. It can be achieved through skillful management of your customer relationships and sales. Sales CRM can do it for you.
Since many businessmen fear incurring additional expenses and adding new tasks without much revenue, CRM developers came up with a new tool to help you succeed in your business, save more of your time, and give you a solution that would help you reach new heights. Software for sales management is a perfect tool to help your sales and customer relationship management reach new heights and enhance your client retention activities as well.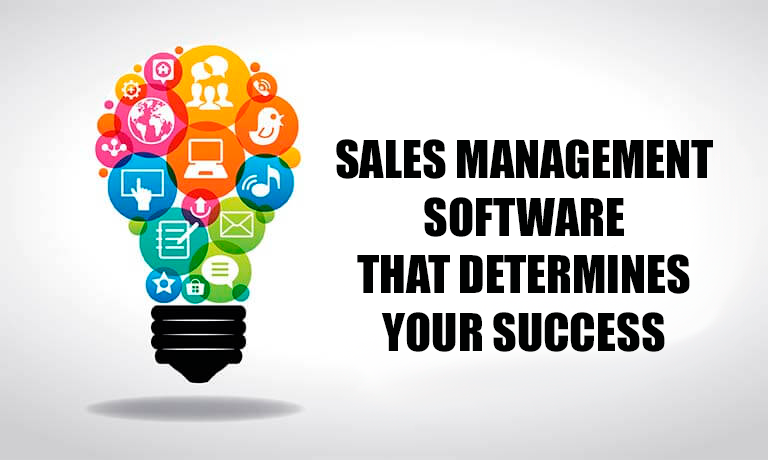 How your business can rise to new levels of success with a sales CRM?
Why would your business need a sales management software?
There are several reasons for that:
You can use CRM to improve your salespeople's performance.
You can use CRM to find new product/service or market opportunities.
You can use CRM to grow your business.
You can use CRM to replicate best practices
You can use CRM to achieve more with less effort.
What determines the strength of your CRM package?
There are three key factors that influence users' decision with regard to buying this or the other CRM solution. Businesses hope to transform their daily influx of data that comes through phones and websites into information that produces revenue. Therefore, they need to plan carefully in order to select the right CRM package to support their activities.
Since sales management systems penetrate all the areas of the company's operation, the decision-making process should involve both business and IT professionals that would consider and address those three key factors:
Product reputation – It is important to check out the reputation of vendors of this software. Scrutinize the products presented via online social networks or print magazines that offer independent analysis and user reviews of CRM software. It is best to speak to existing customers about the product's strengths and weaknesses.
Product scalability – It is an important criteria since you may have to deal with buying a replacement system several years later. You want to buy a CRM software that will help you grow your business rather than have your personnel involved in "expanding" your CRM.
Product price – Your budget is an important part of any purchasing decision. However, make sure that you consider not only the up-front costs, but also the long-term expenses. Find out what services your money covers, how much you will have to pay for product integration, software customization, and additional equipment.
Three best sales management software that will determine your success
Bpm'online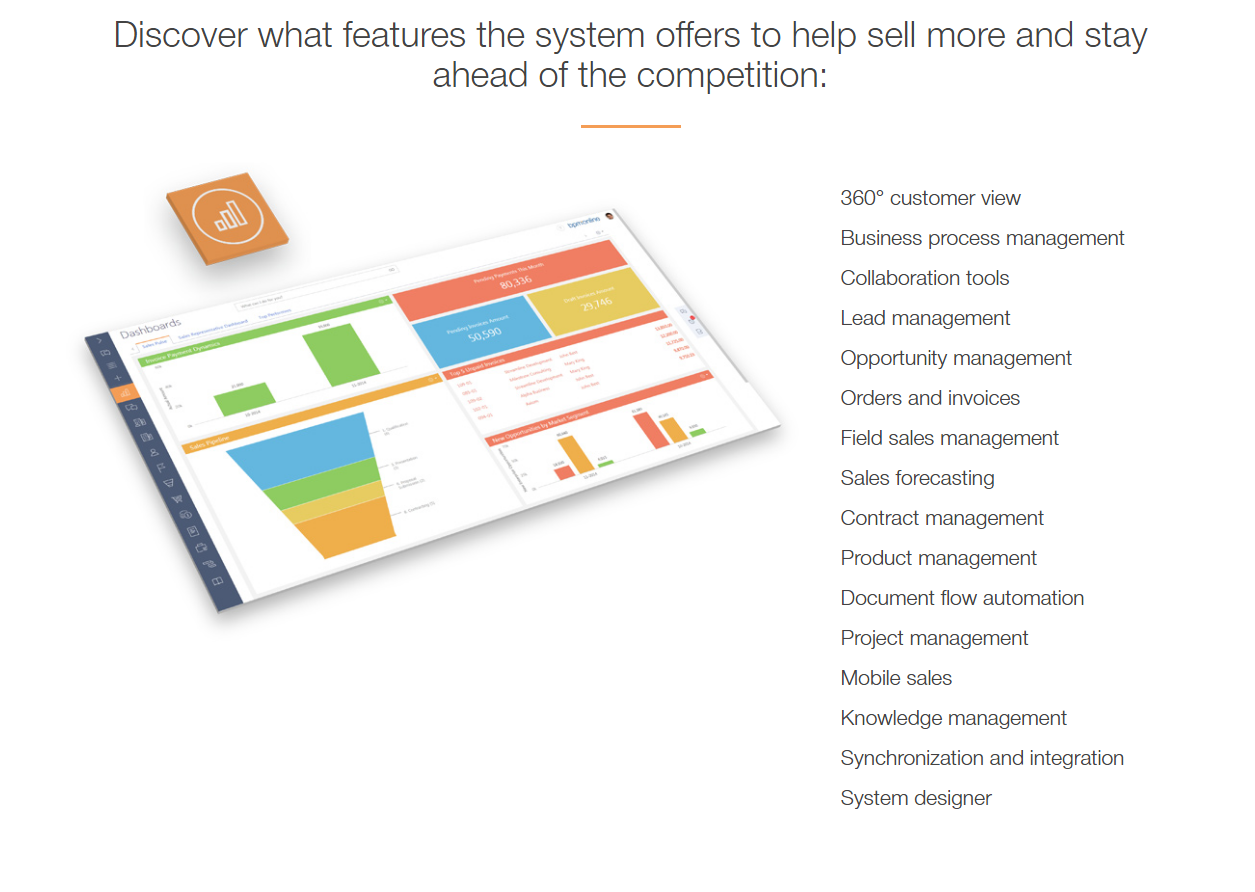 Bpm'online CRM offers its software that can increase your selling power. This company proudly presented its tool for enterprises of each size: small, large and mid-size. This software is based on an innovative approach to IT technologies and has the following useful features:
This CRM product is very cost-effective since it has three editions, each with a corresponding price: Team, Commerce, and Enterprise. Team Edition is great for small and mid-size companies, Commerce Edition is suitable for e-commerce, and Enterprise Edition was designed for large and mid-size enterprises.
This software for sales management has great integration capabilities and can turn your mailbox into an active bpm'online window. Also, you can make telephone calls right from your CRM system and import vital data to/from Excel, quickly adding your contacts data, invoices, documents and other information.
This product has been used in 26 countries and is provided in 8 European languages. Both small and large companies have used bpm'online's services and enjoyed its tool that was designed to automate sales.
ClickPoint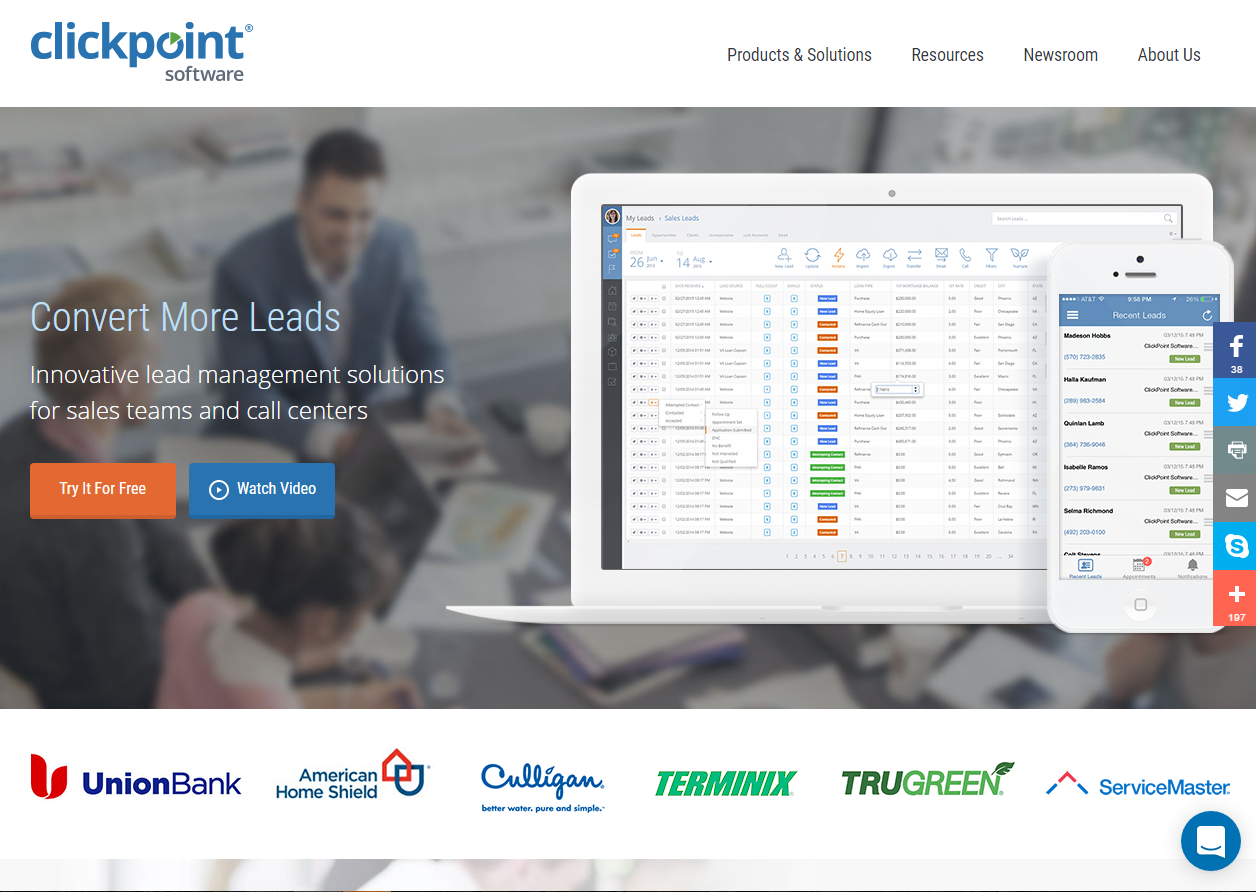 ClickPoint software presents its innovative SalesExec product for call centers and sales teams. The company promises that this tool is easy to use and that it was tailored for potential customers. This sales management software has the following characteristics:
This online sales software offers easy work with leads. Any lead source can be integrated into your lead management system. Your lead information will be quickly delivered to your sales people. Your internal applications will be fully integrated with your lead management tool with the help of this CRM.
This tool allows prioritization of every lead. It is well-known that responding to your clients in less than a minute has proven to raise your chances to close a deal by 300%. This software includes a proven sales process when your agents will follow their leads through to a successful sale.
This product offers customized reporting system. That means that each supervisor/manager will be able to see who in their sales teams is the most effective employee and how you can use your intelligence to make quick decisions.
HatchBuck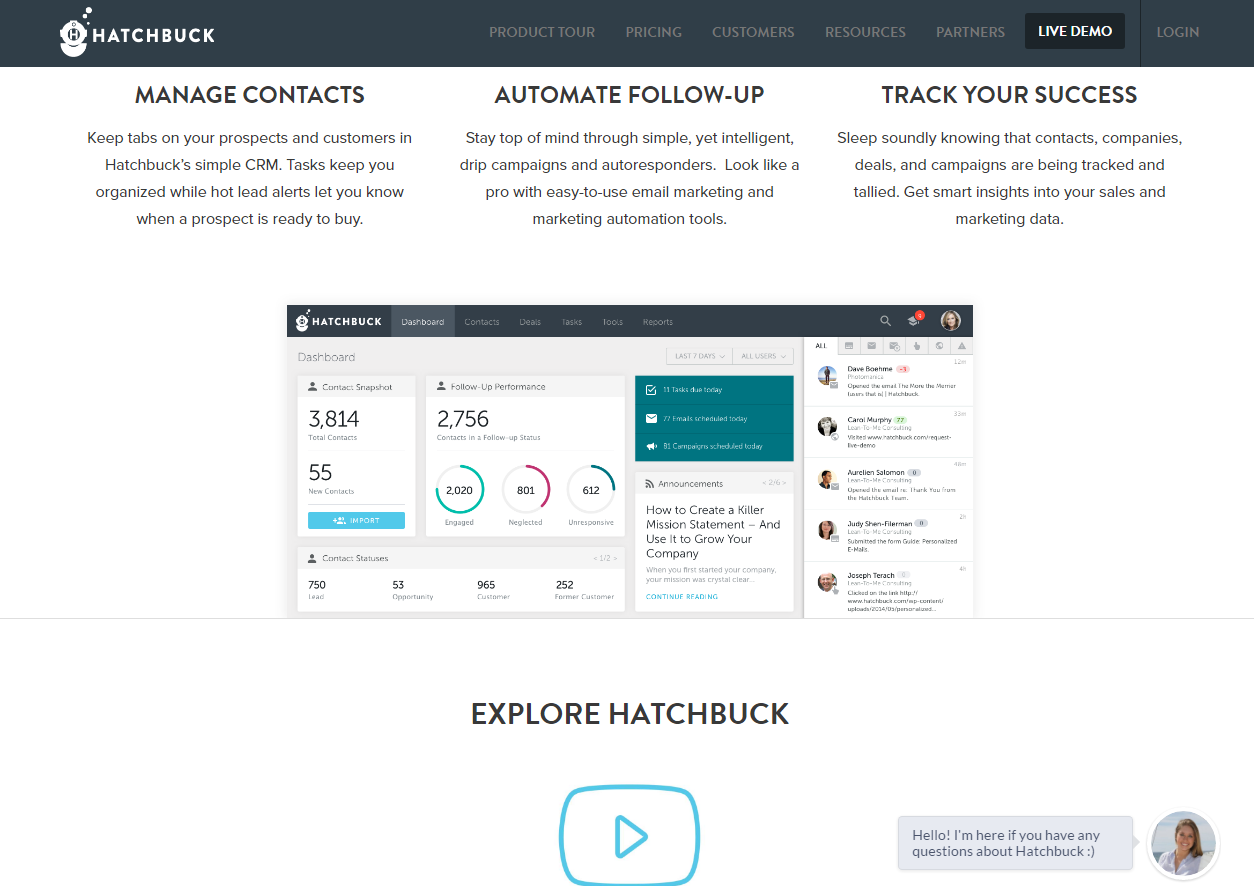 HatchBuck insists that when it comes to your business you either win or sink. This company has developed its product for small businesses and marketing activities. It has the following characteristics:
This product was designed for effective email marketing. You can create your own email templates and integrate the existing email marketing tools with this CRM software to send the right message at the right time.
This tool allows automation of your marketing business processes. You can create relevant campaigns and flood them with vital information to produce conversion.
This CRM is suitable for small businesses. It was developed as a simple alternative to expensive sales software. You will feel the difference once you start using this tool.
Read more
Sales CRM That Will Change the Nature of Your Business
Sales CRM software for smarter business decisions and quicker results
Educational Techniques that Upgrade Sales Collaboration
Automate sales and outperform your competitors with Top 5 Sales CRM solutions
How can your business benefit from SFA?