Whether you are moving to Hungary, or simply spending a prolonged of time on business or perhaps visiting family, organising removals can seem like a chore. Whilst rules are stringent, they are simpl and easy to follow and in doing so you can avoid unnecessary stress for you and your animal.
This guide is intended to help you pick a suitable removal company for both your belongings and beloved pet.
Firstly, 'pets' in this context refers to dogs, cats and ferrets. For other pets or animals, there are slightly different, more stringent guidelines to follow. A number of animals, including reptiles, tropical fish, rabbits and birds are not required to have rabies vaccinations, although there are other, specie specific rules that may apply.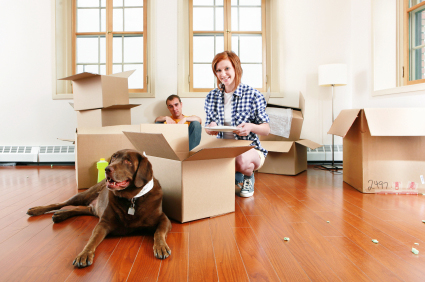 Before selecting a removal company there are a couple of things to note.
Your pet must be micro-chipped before you attempt to take it into Hungary; a rule implemented by all EU member states. The microchip must be non-encrypted and compliant with ISO 11784/11785 standards. To get your pet micro-chipped, book an appointment with your local pet. The procedure is quick and almost entirely pain free; your pet will feel mild discomfort akin to the sort caused by an injection. The vet will place the microchip just under the skin beneath your pet's shoulder blades, which can then be read by a handheld device.
Once your pet has been micro-chipped it must be vaccinated against rabies. It is important to note that the vaccination must be carried out after the microchip has been implanted, else it will have to be administered again. The rules on how soon your pet can enter Hungary after a vaccination depend on whether you are travelling from a non-rabies country like the UK, or a high-rabies country, such as India or Ukraine.
When travelling to Hungary from within the EU, you must have an up-to-date Pet Passport signed by your vet. If you are travelling from outside of the EU, there is an extra form specific to Hungary known as Annex IV. This must be completed by an accredited vet within 10 days of arriving in the country.
Regardless of where you are travelling from, you must sign a declaration to state that you are not travelling with your pets for commercial purposes. If you are travelling with more than five pets for any reason other than a competition or show, you must have permission from either the Hungarian Ministry of Agriculture and Rural Development or the Department of Animal Health and Food Control.
Once these pre-move steps have been carried out it is time to select your removal firm. Choosing a reputable company that is approved to move pets into the country is essential to transporting your belongings and pets in one fell swoop. Cousins Removal, for example, specialise in transporting pets between the UK and Hungary. Do you research and find a company that can cater for your pet and will look after him or her on the journey. They should note down what food your pet eats, any allergy it has and whether or not it has up to date vaccinations.
Alongside being able to cater for your pet, a removal firm must meet a number of other specific criteria. They should be able to pick you up from your home or office, store your goods whilst you yourself move to Hungary and provide adequate packaging materials where necessary. It is important to check that, alongside your pet, they can accommodate all of your furniture and belongings.
Key things to ask are 'how many days a week do the removal company operate?' 'Will I have to dismantle furniture for transportation?' 'What guarantees do the removal company offer for my belongings and my pet?' You should also ensure you draw up a contract with the removal company to ensure peace of mind on moving day.
Speed of service is also naturally important. How quickly will you be re-united with your belongings and your pet at the other end of the line? Discuss timeframes with your potential removal company, but also seek out client testimonials to ensure they have a record of keeping their word.