Refrigerated transport has increasingly become the boon of the shipping trade. As the world economy becomes more interdependent the need for better shipping technology has been self evident. Original refrigerated shipping meant packing foodstuffs with ice or dry ice and hoping for the best. Now the controls of foodstuff shipments are provided by amazingly complex refrigerated containers that provide consistent temperature, humidity and air circulation control. Container shipping has become a world standard because of its versatility in inter-modal transport being used effectively over land, sea or air.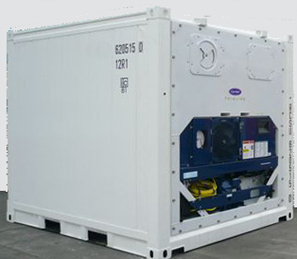 Reefer Container Commerce
Refrigerated container commerce includes perishable foodstuffs and non-food goods such as flowers, meat, plants, pharmaceuticals or other chemical products. The wide range of goods that require temperature control for shipping has increased the need of temperature controlled containers. This increased world wide demand has seen an ever increasing need for more efficient technology, construction and use processes to meet world energy demands. This increased demand was largely fueled by the demand for chilled and quick-frozen food goods. The global frozen food market in 2013 is expected to be valued at $96 Billion USD. The total food and beverage market is expected to top $7 trillion USD by 2014. Although these are total market forecasts, it is easy to see why the refrigerated container is of utmost importance. Shipping goods from the farm to major urban centers has increased the demand for cold storage solutions. The reefer container has met that challenge.
For rail and sea lane cold storage shipping the technology is very similar. For road and air the technology is somewhat different. Road refrigeration generally relies on the engine of the truck hauling the transport. Air refrigerated goods are rare, but usually are completed with dry ice or battery operated refrigeration units. The largest shipping lanes for temperature controlled products however are by rail and sea for their efficient shipping designs and mass transport options. It is important to note that these units are not just equipped for maintaining cool temperatures but in northern climates also provide heating solutions to maintain temperatures as well.
For efficiency and proper control, it must be understood that these units are not meant to cool down products, but simply maintain a consistent temperature. Foodstuffs intended for transit should already be internally cooled to their target temperatures to ensure proper temperature control. Refrigeration units are not equipped to bring foodstuffs into temperature range and maintain them within the intended shipping lanes total shipment times, generally within 21 days. Most current refrigeration units use vapor-compression refrigeration with HFC refrigerants. These units should also conform to the DNV2.7-1 and EN12079 standards and come equipped with material tracing reports, load test and NDT certificates.
The technology advancements included in all modern refrigerated containers provide a stable and effective environment for shipping any item that requires a controlled environment. As the demand in various global markets such as the Chinese grocery market, currently forecast-ed to surpass the US's grocery market by 2014, will prove the necessity of these inter-modal containers. Their technological advancements will continue in the areas of energy efficiency and data management, but their current abilities far exceed international standards for perishable goods shipments.