If you're a pickup truck fan, you're in for a treat according to those in the know: the 2017 Ford F-150 Raptor is in a class of its own and is eagerly awaited.
Pricing
The latest Raptor with its aluminium body is approx. 500 pounds lighter than before and comes with a strong steel frame and updated interior. It also promises, as would be expected, great – even better than before – off-road ability. It comes in two versions, a Supercab and Supercrew. The first will sell at just below $50,000 (£37,600) and the latter at $52,500 (£39,500). Optional equipment, the so-called Plus or Luxury package, will also be available to upgrade the standard features and will include additional combinations such as tailgate step, automatic high-beam assist and blind-spot warning, to name some. Depending on the additions you choose, expect to pay an extra $9,345 (£7,000) for the Luxury option. The Raptor will be on sale soon.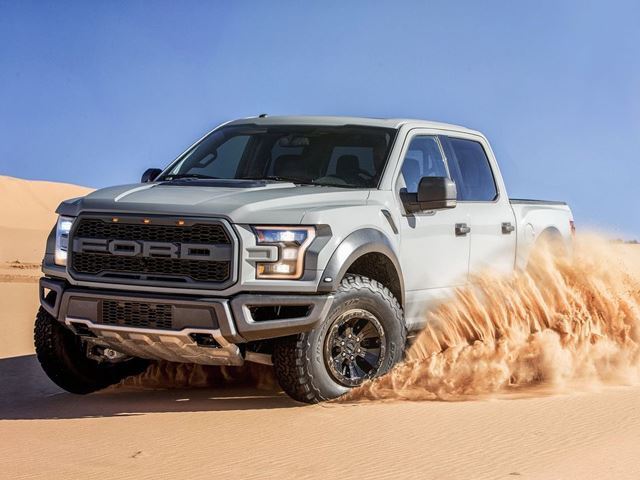 Modes
The Raptor is a truck for all terrains and conditions and will not disappoint those who expect that extra bit. Modes vary to ensure the driver the best choice depending on circumstances.
Normal and Sport – These modes are meant for normal everyday on-road driving, with the latter allowing increased throttle and a sportier element;

When on-road conditions cause slippery surfaces during wet spells and snow, Weather Mode automatically engages 4WD;

During moderate off-road conditions that include mud/sand, 4WD High is automatically engaged;

The specially designed-for-Raptor Baja mode is meant for high-speed desert terrain;

The driver is automatically prompted to engage 4WD Low for Rock Crawl ability.
Interior
Standard features include a 2.3-inch display with driver information contained therein, as well as a central display screen, Bluetooth and Wi-Fi connectivity, six-speaker sound system and manual crank windows added to the standard feature list. With the level of toys in now standard in the not-so rough 'n ready Raptor truck, it certainly makes you wonder why you'd want an executive saloon for town living. (Get rid of your saloon or coupe at The Car Buying Group and get a 2017 pickup!)
Some Specifications
The 2017 Raptor is a 4-door pickup that seats 5 people, comes with a front-engine and either rear or 4WD function;

A twin-turbocharged engine that produces 375 hp and 470 lb-ft torque and reaches 60 mph in 6.3 seconds. Top speed is 100 mph;
A list of dimensions includes the following details: length = 220.0 inches and 231.5 inches (Supercab and Supercrew respectively); width = 86.3 inches; height = 78.5 inches;

10-speed automatic transmission with manual shifting mode.
Colour
The new Raptor is available in four metallic options: Blue Flame, Tuxedo Black, Ruby Red and Ingot Silver. More options include Oxford White and Race Red.