Be it home, office or a commercial outlet, the thought of theft and vandalism might strike the mind of owners and especially after coming across those disturbing newspaper headlines. Therefore, to ensure harmonious and stress-free life, it is critical to have ample protection and security. Due to the ever-rising crime rate, people are spending their savings on protecting their house by installing the tech gadgets of today. However, most still trust security staff for their home and work premises. Security guards are those big muscular flocks, who are trained and experienced to protect people, offices, and residences. These physically fit guys are trained to handle any kind of emergency situation.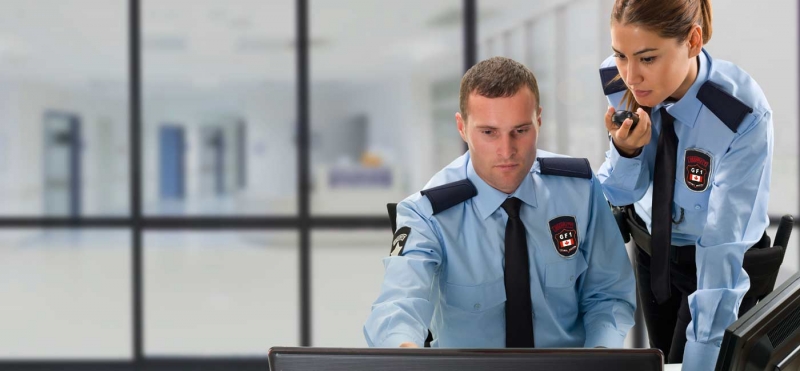 A security guard has to perform a number of duties, and some of the significant responsibilities are mentioned below:
Guards are hired in industries and corporate offices for the sole purpose of offering protection not only to the employees of the company but also the office premises. These security personnel have to keep track of the number of inbound and outbound traffic, along with the arrival and departure time of the employees, and reason of visit. All these details have to be maintained in a ledger. In addition, security services are responsible for protecting official documents present in the office.
Most of the security services arm their guards with metal detectors to check visitors and abstain them from carrying weapons on the premises of a building. Depending upon the services you opt, security guards are armed where some of them unarmed.  Employers can pick guards in line with their specific needs and requirements.
Another fundamental duty of the security services covers close surveillance. They have to keep a close eye on people and places, thereby preventing any illegal activities and problems. They are expert in spotting people, who behave suspiciously and having possession of illegal stuff.
Security guards hired from a reputed security staff company usually have the tools to better guard and to maintain peace and harmony. Close circuit cameras, metal detectors, batons, radio, and scanners, are used by guards to prevent sabotages. They also direct people to safety during any emergency scenario such ad fire, blasts, and so forth.
Essential requirements in a guard: 
Security personnel are employed to guard in hospital, schools, and banks, where security services are essential. However, there are certain things that need to be adhered before hiring just about any anyone for this job. A thorough background check on the credentials of the personnel you hire is imperative; he must not be a prolonged offender and should be medically sound. The guard needs to be trained and equipped to meet any emergency condition.  He or she must able to do multitasking as there is an array of duties to be performed. His or her good communication ability is always an added attribute of a security guard.
At last, before contracting any security staff, you should read reviews of the company. Your friend's and relative's recommendations will be a great help to find the best company in the town.