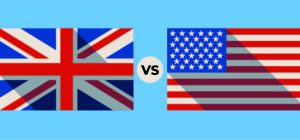 Admittedly, UK and US share a huge portion of history and language, but there are big differences between them in terms of culture and customary practices. The difference in education is quite pronounced.
It is assumed that since the language of instruction in US and UK is English, by extension of that, the systems must be similar too. They are very different in reality.
Mentioned below are major differences between UK and US educational system which will enable a better and informed decision-making:
1. University and College
In the case of UK, a university implies students entering their bachelor's program for a period of 4 years. In the UK, college means students prep for 2 years to enter a university after having completed their formal education. The Americans call a university, college.
2. 3-year Degree in UK
The British students have a certain advantage over their American counterparts as they attend university for a period of 3 years and earn their bachelor's degree. On the upside, it allows you to graduate speedily, but on the downside, the students may also miss out on all the university life fun that is glamorized in pop culture. The Americans undergo a 4 year degree program, after the completion of which, they start looking for a job.
This also explains the hugely popular 'gap year' among the UK students. They spend a year finding their footing, traveling, exploring or in short, pursuing their passions.
3. Pressure Down under
In the case of UK, the students have to decide early on in which field they are to major, or in UK's language, a course. This is a huge disadvantage for children growing up as they may select another career path later in life, but a growing child needs to be more informed of his choices.
4. Extremely Lower Costs
It no inside secret that education outside American soil is much inexpensive. In the case of UK, education is relatively affordable but also depends on the home country. The fee structure varies whereas Scottish students can study free of cost in Scotland. By studying outside of USA, students can save a hefty amount and use those funds elsewhere. This may also be less burdensome on the parents as well.
But no amount charged in UK comes anywhere close to that in USA where community colleges can also cost a pretty penny. In this case, the American education system is highly expensive.
5. GPA and First Class Honors
The grading systems of UK and USA are massively different. In the case of UK, 'first class honors' is the highest grade awarded to the students which are 70% and up. The Grade Point Average system is an American equivalent, however, some educational institutions in UK are experimenting with GPA too.
6. College Sports
One drawback the UK education system has, especially for sports enthusiasts is that of college sports. It may trump USA in the educational domain. The sports in UK are smallish in size when compared to college sports in US. In the case of UK, professional athletes have no obligation to attend university in order to play. However, emerging sporting stars in US never have the visibility without college sports.
Moreover, the UK universities may have sports teams for a variety of sports, but they can never draw crowds of 100,000 people as in their American counterparts.
7. Extensive Processing
The American system is relatively more complex and extensive. After the completion of high school, the American students apply to enter in a college (4-year programmes) using a composite of qualifications. This may consist of teacher recommendations, optional examinations, a certificate of personal achievements, Grade Point Average (GPA) and other achievements.
Other than that, the American institutions also opt for students who aspire to contribute to the community but are academically accomplished at the same time. As a result, musicians, activists and athletes can also enter based on their non-academic achievements. However, it results in a vastly time-consuming and complex screening process.
8. Academic Year
In UK, the academic year is segmented into trimesters. The winter term commences from September and ends in December. The summer from April to July and Spring from January to March.
The American universities have divided the academic year into two semesters, spring and fall. The vacations and winter exams start around Christmas. Summer semester is optional but can be taken if courses are lagging behind.
Final Verdict: UK or USA?
Based on your goals, be it bachelor's degree or secondary education, the decision should be finalized to opt for either of them. If a child has firmly decided on a particular career path early on, it is prudent to choose UK system, which will allow the student to study in detail. However, the American system is advisable when a child needs to excel in a range of disciplines and acquire knowledge. More to the point, it is advisable to pass the University Foundation for entrance into a better university.
In the case of the master's degree, the conditions still apply. In the American master's program, the duration is of 2 years with a break in between. During this break, they can induct into a summer internship as per their ease. Interestingly, the graduates and undergraduates can also acquire a work permit (up to 3 years) during which they can polish their skill set. In the case of UK, the master's program is of 1 year which allows thorough research exercise and acquisition of knowledge during that period.
Author Bio:
Ronald Willey has retired from formal education and research in HE but now he is spending time in writing help and research contributions to student use of a computer in fieldwork and also provide the assignment help UK.