It's no doubt that Italy is the beacon of fashion design in the world. Milan, the richest and second largest city in Italy, is a thriving fashion hub and each year thousands of fashion enthusiasts flock the city to witness its Marvel and renew their wardrobes. With that said, there are many luxury fashion stores spread across the city that you'll almost be overwhelmed by choice. Let's save you the hassle by presenting to you the top 5 luxury stores in Milan.
The Ralph Lauren Boutique
The Ralph Lauren Boutique is situated on a splendid shopping street in Milan. When you first step into this fashion store, it's like you've entered a 19th-century castle. It actually qualifies as an ancient castle because it's an Italian Neoclassical Palazzo. It's a four storey towing structure with a grand staircase spiraling around a contemporary yet magnificent bronze and glass elevator. All these scenarios sum up to epitomize a combination of modernity and classism that is typical of Ralph Lauren's fashion designs. If your fashion sense resonates with style, quality, and refinement, then Ralph Lauren Boutique sits on top of your luxury fashion stores in Milan.
Bottega Veneta
When you land in Milan, and time is of the essence, you can rent a car in Milan Malpensa Airport and get to this store while enjoying the panoramic view of the city. The Malpensa Airport is flooded with car hire services because it's a thoroughfare for international and domestic flights. The Bottega Veneta stores both women and men collections. After testing firsthand the spectacle that this fashion store offers, you can attest and enthusiastically subscribe to their motto ' Bottega Veneta." The whole establishment accentuates the definition of exquisite quality and luxury. When your hands get hold of their popular intrecciato purse, you might find yourself holding it for good.
Bvlgari
The Bvlgari fashion store is situated a couple of blocks from The Bottega and Ralph Lauren Boutiques. Just when you thought you've satisfied your fashion sense, this dazzling store will blow your mind with designs with more flash in them. This paradise is where the phrase 'land of diamonds and gold rings true. The fashion design creativity here is off the charts rising above fads and time. The unique designs and innovative material choice create luxury and pure glamor. If you are in Milan looking for watches, jewelry, fragrances, eyewear and accessories, this fashion store will serve you right. The products are conveniently and proudly displayed for you to effortlessly sample out.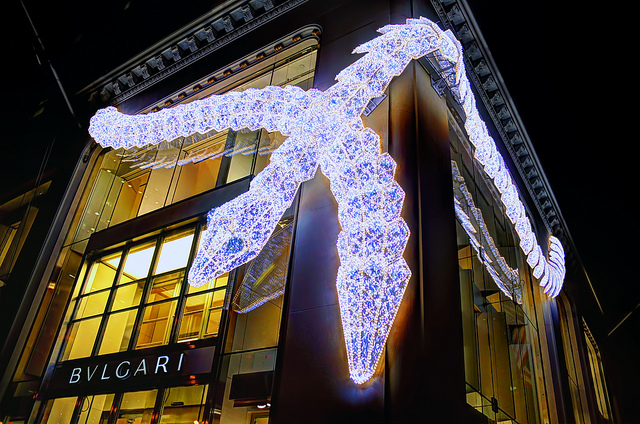 Prada Boutique
Any fashionista worth his salt traveling to Italy cannot pass up the opportunity to shop at the Prada Store. This very fashion store brags about a unique and fresh concept yet to be incorporated in other Prada stores. The unique concept is the Made to Order service. That means pretty much every product ranging from women's boots to men's sneakers can be easily customized according to client desire in terms of material and color. This Prada store has even been described by many as the next generation fashion store because it personifies a futuristic and warm spin on the contemporary fashion shopping experience. The choices are literally limitless for those looking exclusively for Prada fashion products. If you choose to shop at The Prada Boutique, brace yourself for a traditional Italian gorging.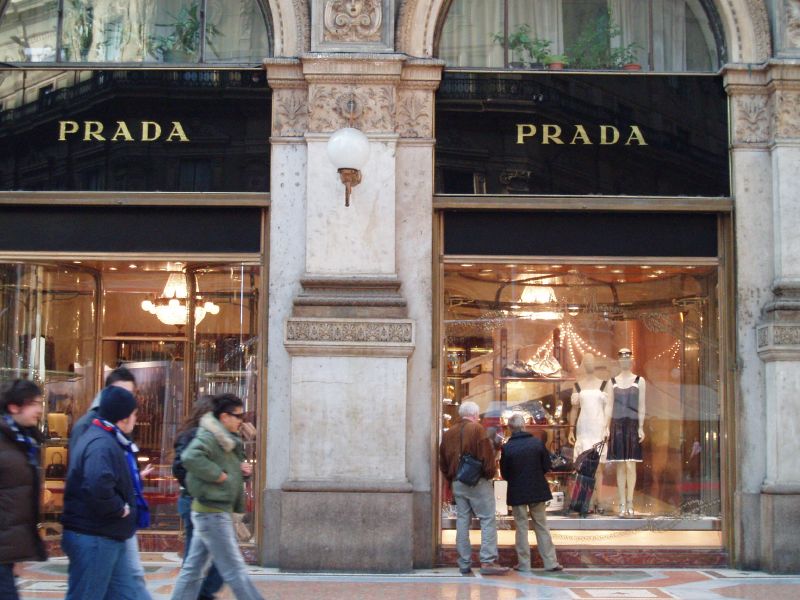 Fendi Boutique
Back to this reputable shopping street stands the Fendi Boutique. The fashion store opened its doors in 2013 and has since caused ripple effects across the fashion world with unmatched designs and unexpected surprises. The Fendi Boutique is situated inside the 16th-century palazzo; that is a piece of work artistically. The frontage was left in its ancient style whereas the interiors are adorned with artworks from famous artists like Agostino Bonalumi, Gio Ponti, and Nucleo. The fashion store carries a whole lot of Fendi collections, fur salon, a Made to Order Service and the alternative to create your Seleria bag if you desire a touch of raw individuality. A stop over at the Fendi Boutique would enable you to make out with a bang. If you are inside the store to just admire the artwork, you may end up buying something because the fashion designs are too alluring.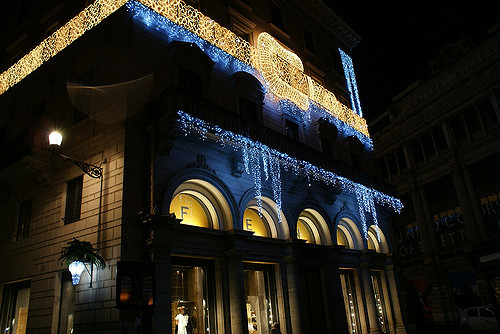 There's no doubt that Milan City is the flagship destination for anything fashion. You can also rent a car in Milan Malpensa Airport and make the most of your time there by driving through the beautiful yet cultural city. You will get to witness firsthand the Italian culture, artifacts and enjoy the revered Italian cuisine.