No place in your home is used as often as your bathroom both for the family and the visitors. For this reason, it's good to have a beautiful and well-decorated bathroom in the house. Among many other things you can do to your bathroom to add elegance, you need to work on fixtures, windows, a paint color fix and general decoration.
Here are few tips on how to complete interior design and renovation of your bathroom:
The floor: If your bathroom's floor must be wooden then you should ensure it is well stained and sealed. Otherwise, moisture will seep through the wood and cause warping and even rot. What makes wood an excellent option is the fact that it adds charm and appeals to your bathroom more than any other option.
Color: The color you choose to add on your floor can make the room look small or big. So if you think your bathroom looks small, consider making it look bigger by painting it white or cream. Have you ever tried looking around in a darkly painted room?
You will notice that it looks too confining. Bright colors have a tendency of making rooms appear bigger while darker colors make them look small. But ensure that your paint is water resistant.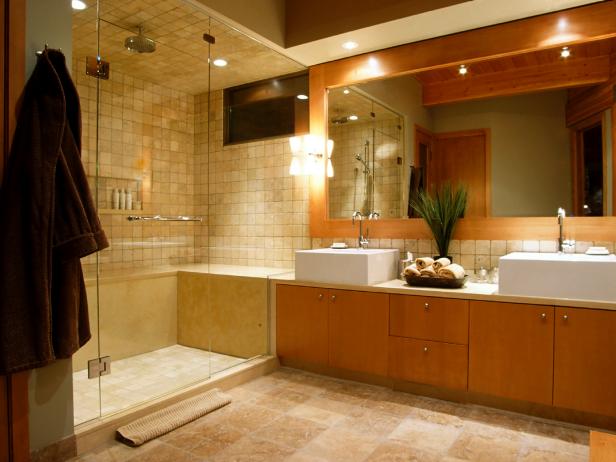 Lighting: Consider the lights with the same level of seriousness as you do on everything else. If there are few or just one source of light on the ceiling, add more lights to make the room bright. Positioning your lights close to mirrors can increase the brightness of the room.
Also, consider adding a dimmer switch to adjust the light between dim and bright in accordance with the mood. Adding an extra mirror donning a decorating work of art makes the place look beautiful while adding light at the same time. Another interesting thing you need to know is that mirrors make a room look larger.
Fixtures: Colored fixtures tend to begin looking outdated with time. To make fixtures beat the time and look all-time modern, consider painting them white or cream.
Decorations: Having a fair size bathroom is a great opportunity for installing a range of decorative items including artificial plants (those that can grow indoors) decorative cupboard and even a decorative shelf that can serve to hold soap and towels etc.
You are free to be innovative and install a decorative hanger that can be used to hang things using beautiful hooks. Bathroom wall decorations ought to be crafty items. More decorations conscious individuals can go a step further and add fake flowers, baskets, candles etc as décor.
Showers: An enclosed shower is better off. So consider installing it in place of the current shower during your remodeling process. Other than good looks, it causes the production of hot steam which is good for your relaxation.
Walls and windows: Simply add waterproof wall panels if you don't want to add waterproof materials on walls. Waterproof panels are mainly made of PVC, plastic, fiberglass and acrylic cladding materials. Well decorated glasses for your bathroom windows add the much-needed elegance. Also, add decorated blinds and curtains that match the paint of the room and accessories.
Home redesign and renovation are fun. Never forget your bathroom when redesigning your home because it is often the well-used room other than being a place your guests can use to judge how you live. A beautiful bathroom is a charm to your home.
Credit: Prorefub – home repairs London. We take full project responsibility from design to completion, and our team of architects, engineers, designers, and skilled tradesmen work hard to minimize interruption to your daily routine.