Although it's an age old concept, DIY projects have become increasingly popular. Even if you don't have any special skills or talents, you can still create something original for your home.
The projects usually involve fairly simple materials and tools that can be found in any hardware store. If you're on a budget or you simply like finding alternative solutions to well-known designs, why not try to make them yourself?
Before you actually start working, make sure you have all you need to stay safe. No matter how simple your DIY projects may see, it's important to protect yourself.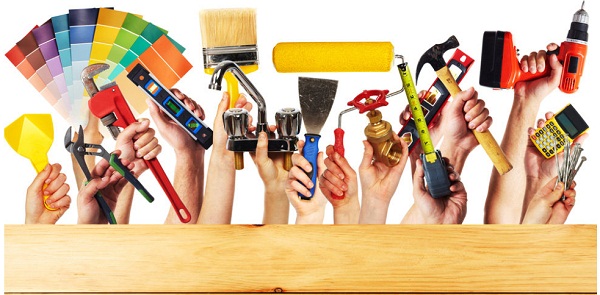 Tools and Equipment
You can try to build something without proper tools but we all know how it will end; this can be not only frustrating but dangerous. You may not be able to buy every single tool, but having the essentials will save you a lot of time and hassle:
You will need these even if you're just planning to hang a picture frame in the living room. They are absolute basics and every respectable DIY-er should have them in their toolbox.
This is another fundamental you won't be able to live without once you start your own projects. They come in all different sizes, so make sure you have a selection of the most common ones. You will need both flat and star-shaped screwdrivers.
Even if you're confident with your math skills, you do need a measuring tape. The last thing you want is a DIY closet with uneven shelves.
A drill is useless without the correct bits. To make your life easier, buy the whole set of different bits so you'll have the right one for each project.
If you're planning to cut pieces of different materials yourself, a saw is a must-have tool. Depending on your level of proficiency you can choose a manual or electric one. If you don't feel comfortable using either options you can ask someone for help.
Protective Clothing and Safety Equipment
Once you have the proper tools it's time to focus on protection, to keep all of your DIY tasks safe.
If you're planning to paint it's a good idea swap your normal clothes for something more appropriate, such as a pair of cotton work trousers or black boiler suit.
The fabrics used to make these type of clothes is also usually waterproof, which helps if you're planning to work outside in unpredictable weather conditions.
Any work that involves construction or roof work requires special safety headwear. The same applies to your eyes. Wear protective goggles to avoid injury or permanent damage.
Never start any task if you don't have a proper face mask or safety gloves. It sounds like a simple rule but it can be very useful if your work involves wood turning or dealing with chemical substances.
With so many DIY project ideas online, having a basic DIY toolbox will make it that much easier to get going!